Serves: 4
1/2
cup pine nuts
2
oz fresh basil, about 2 cups packed
1/2
cup olive oil
1/2
cup grated Parmesan cheese
3
cloves garlic, peeled
1/4
tsp salt or to taste
1/4
tsp pepper or to taste
1.Toast pine nuts in a small skillet for 2 to 3 minutes, watching closely since they burn easily.

2.Add all the ingredients to a food processor and blend together, pulsing in 5 to 10 second bursts.

3.Continue blending until the texture is smooth. If pesto is too dry and not blending well, add a couple tablespoons of water, or a bit more olive oil.

4.Taste for seasoning and add salt and pepper as needed.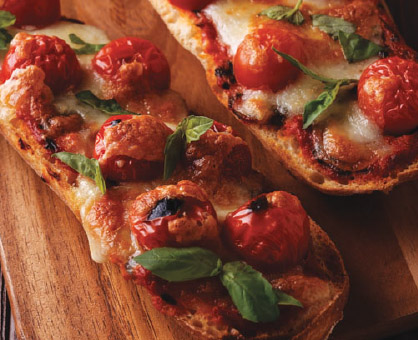 French Bread Pesto Chicken Pizza
Serves: 4
1
(10-ounce) loaf French bread or baguette
1/3
cup basil pesto
1/2
cup cherry tomatoes, halved, divided
Rotisserie chicken, cut into chunks
1
cup shredded mozzarella cheese
Extra virgin olive oil and Parmesan cheese shavings, for serving (optional)
1.Arrange a rack in the middle of the oven and heat to 400°.

2.Use a serrated knife to cut the bread in half lengthwise. Place the halves cut-side up on a baking sheet. Spread the pesto on bread.

3.Top with half the tomatoes and half the chicken. Sprinkle evenly with the mozzarella. Top with the remaining tomatoes and chicken.

4.Bake until the bread is heated through and the cheese is melted, about 10 minutes. Drizzle with olive oil and Parmesan shavings if desired. Cut each half into 2 pieces for serving.

Makes 12 rolls (serves 4-6)
1
pound pizza dough, thawed if needed
Nonstick cooking spray
1/2
cup basil pesto
1
medium zucchini, thinly sliced
2
cups shredded mozzarella cheese
1
cup marinara sauce, warmed
1.Arrange a rack in the middle of the oven and heat to 400°. Meanwhile, let the dough sit out at room temperature while the oven is heating. Coat the wells of a standard 12-well muffin tin with cooking spray.

2.Place the dough on a work surface and use your hands or a rolling pin to stretch it into an 11×16-inch rectangle. Spread the pesto evenly on the dough. Place the zucchini slices evenly over the pesto, then sprinkle evenly with the cheese.

3.Starting at a long end, roll the dough up into a tight log. Place on a cutting board seam-side down. Cut crosswise into 1-inch-thick rounds.

4.Place a round, cut-side up, into each muffin well. Bake 20 minutes or until golden brown. Serve with marinara.