Martin's Health and Wellness Advisor, Kristin St. Clair RDN CD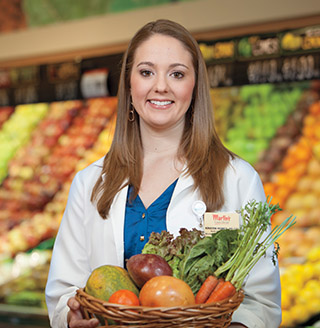 Letter From Kristin
Tradition is a common thread woven into holiday celebrations. Each year we spend hours decorating, preparing and anticipating the many gatherings that take place over the holidays. Every family enjoys their own traditions and, while we wouldn't have it any other way, it is often difficult to manage one seemingly endless holiday tradition… overeating.
This year incorporate some small, but important changes to ensure you enjoy the holidays while embracing the deliciousness of the season.

1) Give yourself permission to enjoy all foods. No food is off-limits.
2) Don't head to a party starving. Instead eat a super-light breakfast and lunch.
3) Assess your options and decide which options are really worth enjoying.
4) Stop when you feel satisfied, not stuffed.
5) Forgive yourself when you do overindulge. There is no point in beating yourself up. It is a holiDAY. Tomorrow is a new day to move forward.
Lastly, be present and in the moment. The holidays come just once a year. Focus on making those special memories with friends and family. The memories of the season are what last a lifetime.


Be Well,
Kristin St. Clair, RDN CD
Your Martin's Health and Wellness Advisor