Martin's Health and Wellness Advisor, Kristin Humes RDN CD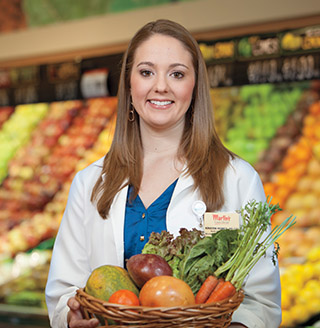 Letter From Kristin
The warmer weather and sunshine indicate a seasonal abundance of delicious new foods making it the perfect time to taste the difference. With Martin's Buy Fresh Buy Local program we are bringing you real flavors of food brought directly from your local farmers. It's simply the best you've ever tasted.
We value these longstanding partnerships with local growers and strive to be your best and most accessible resource for locally produced foods. Take advantage of some of our produce department partnerships this summer:
Dale Yoder Farms (Goshen, IN)
Farmer Dale Yoder grows a variety of native Midwest crops for Martin's, including but not limited to bi-colored sweet corn. In the past, Dale Yoder Farms has planted fields of sweet corn to provide Martin's with the area's premier summer crop, grown to Martin's own specifications.
Kerlikowske Family Farms (Niles, MI)
The Kerlikowske family has been growing and harvesting watermelon for over 20 years and is now providing some of the juiciest, mouthwatering, tasty watermelon around. Watermelon's high levels of lycopene may help to lower the risk of heart disease, certain cancers and may keep chronic inflammation down. With the hot summer months coming, watermelon is the perfect food to help stay hydrated as its juice is full of electrolytes.
Dave Pagal Produce (Berrien Springs, MI)
For over 40 years, Dave Pagal Produce has been supplying Martin's with a variety of apples. Their honeycrisp apples are sweet and juicy making them an excellent addition for snacking or topping salads. Mutually beneficial relationships continue to sprout! We at Martin's are excited to continue to provide you the freshest produce around.
*Products grown, raised or directly produced in Indiana, Michigan, Ohio and Illinois are identified at Buy Fresh Buy Local for your convenience.
Be Well,
Kristin Humes, RDN CD
Your Martin's Health and Wellness Advisor