Martin's Health and Wellness Advisor, Kristin St. Clair RDN CD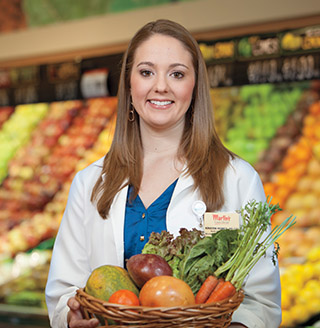 Letter From Kristin
One of the most popular New Year's resolutions is to lose weight and eat healthier. While the intention behind a generalized resolution like this is positive, we often find these widespread resolutions lose their luster after the first 6-8 weeks into the year. Instead, focus on realized resolutions that are more motivational to you and have an outcome measure you can hold yourself accountable for. Here are some resolution ideas to get you started:
Preparing more meals at home. Create menus on the weekend or on a day off. Make a grocery list and go shopping for all the ingredients you need. Use Martin's Groceries to Go for easy pick-up if you are short on time or if you can't easily navigate the grocery store. Remember, recipes and meals don't have to be something long and involved. It can be simple, fresh, nutritious and taste good.

Separate screen time and meal time. Become more mindful and savor your food. This is becoming increasingly difficult in an always connected society. Encourage yourself and family members to put the screen away and focus on the deliciousness of the food.

Add color to every meal and snack. Eating fruits and vegetables is the best way to fight chronic diseases like cancer, heart disease, diabetes and obesity, as well as the common cold. Simply add berries on top of oatmeal or cold cereal, or steamed veggies right into your favorite pasta sauce, for example.

Explore new dishes and cuisines. While being creatures of habit is ok in some aspects, meals that are too repetitive often get boring and entice you to make a quick switch to something that sounds better, such as fast food on the drive home. Aim to prepare one new recipe each week. If you like it, add it into your recipe rotation as another option to make.
Outside of just nutrition, it is also important to consider other aspects of wellness, such as your fitness routine and mental health. Here are a few more ideas:

Establish a calm morning routine. Try waking 10-15 minutes earlier to spend a little time stretching, deep breathing, meditating, journaling or more. A positive and calming morning can help you remain more mindful and energized throughout the day.

Find fitness classes you love. New gyms and classes are a great way to find motivation from those around you and commit to being physically active on a regular basis. Within the Michiana area, there are a ton of wonderful options!


Be Well,
Kristin St. Clair, RDN CD
Your Martin's Health and Wellness Advisor