Martin's Health and Wellness Advisor, Kristin Humes RDN CD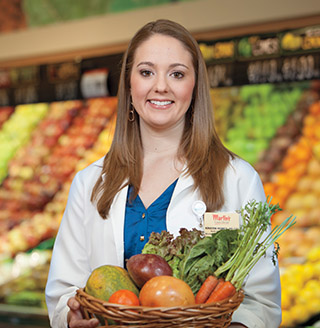 Plan For Success
Committing to a healthy lifestyle can be realistically achievable if you plan ahead. Even though hectic schedules can make eating well a challenge, planning ahead is key to ensuring your healthy living goals stay focused and on track. Here are a few tips on how to plan for success:
1. Think about what you need from the grocery store and make a list.
Look at the weekly Martin's ad for specials to help you decide what to make for meals. It is okay to leave a few ideas up in the air for when you get to the store and browse; however, making a plan will ensure that you don't forget anything and will help to reduce the temptation of grabbing unhealthy choices.
2. Number 1 brings me to my second point: never shop on an empty stomach –
you'll be shocked at the unhealthy choices you reach out to grab when you are hungry. Try shopping when you are full or after a workout, when you feel good about yourself – you will be more likely to be in tune with the healthier options available.
3. For me, Sunday afternoons work as a great time to prep for the week ahead.
Try to pre-cook any meats that will be added into recipes (for example, bake and slice chicken that will be used in a BBQ chicken flatbread pizza). Dice, separate and bag any produce so it is easy to add into recipes or throw into a lunch bag. Make it easy to reach into the refrigerator and grab what you need quickly throughout the week. Having items already diced and chopped will reduce the total time you spend in the kitchen after a busy day.
4. Be prepared.
Have healthy snacks on hand for you and your family at all times. That way, if you get stuck out running errands, you have healthy options to turn to.
5. Cook in bulk
freeze extras, save for a second night of leftovers or take it for lunch tomorrow.
6. Stock up on staples in your house
such as brown rice, beans, canned tuna, oatmeal, dried fruits, nuts, herbs and spices, etc. You will then always have some healthy options in the pantry to whip up something in a pinch.
7. Exercise needs planning too!
Think about the time of day that's the best time to schedule fitness. Try different times (before work, at lunch, after work) until you find a routine that works best for you. When you make a plan about when and where you are going to exercise, you are more likely to stick to your plan.
Summer is the perfect time to eat healthy and become more active. Try some of these healthy snacks and activities to make the most of the long summer days. Fresh fruit, instead of ice cream and other frozen sweets:
>Try grilling pineapple or peaches for dessert drizzled with a little honey and cinnamon
> Freeze grapes – an extra refreshing summer treat that is quick and easy to grab
> Slices of watermelon are always refreshing, especially in the summer heat
The opportunities to be active in the summer seem endless, especially in our region when we have been cooped up inside during the cold winter months. Here are a few ideas for getting active this summer:
> Go on a bike ride
> Swim laps in an outdoor pool
> Go on a hike along a trail
> Go for a run outside
> Play team sports, like baseball and soccer, even if it is just a fun game with extended family members
> Go for a walk after dinner
> Try kayaking or canoeing
> Get at least 30 minutes of physical activity each day; 60 minutes for children
Today is the right time to start planning for your healthy future. Best of luck!