Martin's Health and Wellness Advisor, Kristin St. Clair RDN CD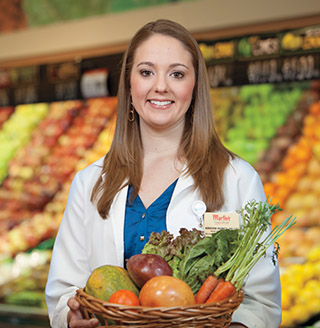 About Kristin
Kristin, Martin's Health & Wellness Advisor, is an enthusiastic and knowledgeable advocate for helping people make informed diet, exercise and lifestyle decisions that enhance health and happiness.
Kristin completed her Bachelor of Science in Dietetics degree in 2010, and since then, has gained professional experience in several important arenas. Most recently she served as the Regional Director of Nutritional Services at Extendicare in South Bend. Prior to that, she worked with both student and senior populations in areas of diet and nutrition.
She holds professional certifications that include Registered Dietitian Nutritionist with the Academy of Nutrition and Dietetics, Certified Dietitian in the State of Indiana, CPR and First Aid, AFFA Primary Group Fitness, Serv Safe Certified and Serv Safe Instructor and Registered Proctor.
Kristin is ready to be a great resource for Martin's shoppers who want to learn more about the ways in which diet affects their lives, as well as those of their families.
In addition to meeting Kristin for a wellness consultation or store tour, follow her on the Martin's blog or on her Facebook page where she posts healthy recipe inspirations and wellness tips.
For a personal wellness consultation, contact your health and wellness advisor, Kristin, today!
Contact Kristin by phone (574) 239-1858 or e-mail kstclair@martins-supermarkets.com