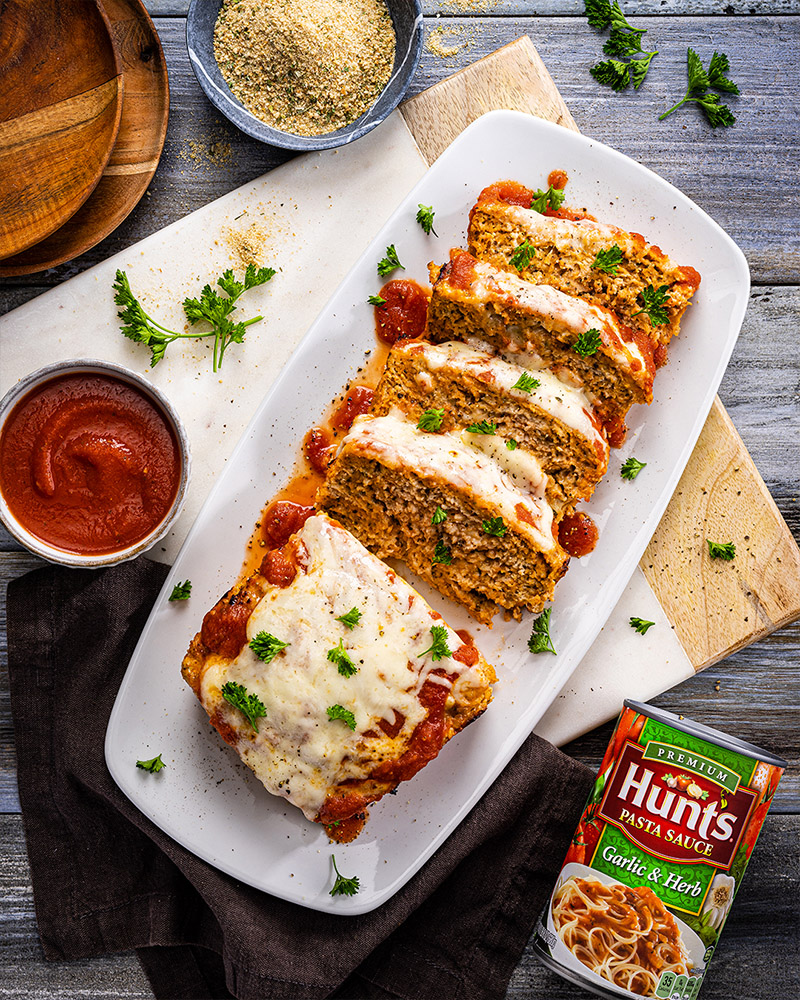 Click to See How-To Video!



5-Ingredient Chicken Parm Meatloaf
Prep: 10 minutes plus standing
Bake: 50 minutes • Serves: 8
Nonstick cooking spray
2
pounds ground chicken
1
can (24 ounces) Hunt's® garlic & herb pasta sauce
1
Martin's large egg
1
cup Italian-style breadcrumbs
1
cup shredded mozzarella cheese
1/2
teaspoon salt
1/4
teaspoon ground black pepper
Chopped fresh parsley for garnish (optional)
1. Preheat oven to 350°; spray 9 x 5-inch loaf pan with cooking spray. In large bowl, gently mix chicken, 1-1/2 cups sauce, egg, breadcrumbs, 1/2 cup cheese, salt and pepper; spread in prepared pan.

2. Bake meatloaf 40 minutes. Spread top of meatloaf with remaining sauce and sprinkle with remaining 1/2 cup cheese; bake 10 minutes or until cheese melts and internal temperature reaches 165°. Let meatloaf stand 5 minutes; cut into 8 slices.

3. Serve meatloaf garnished with parsley, if desired.


Approximate nutritional values per serving (1 slice):
305 Calories, 15g Fat, 5g Saturated Fat, 131mg Cholesterol, 929mg Sodium,
15g Carbohydrates, 3g Fiber, 4g Sugars, 1g Added Sugars, 28g Protein