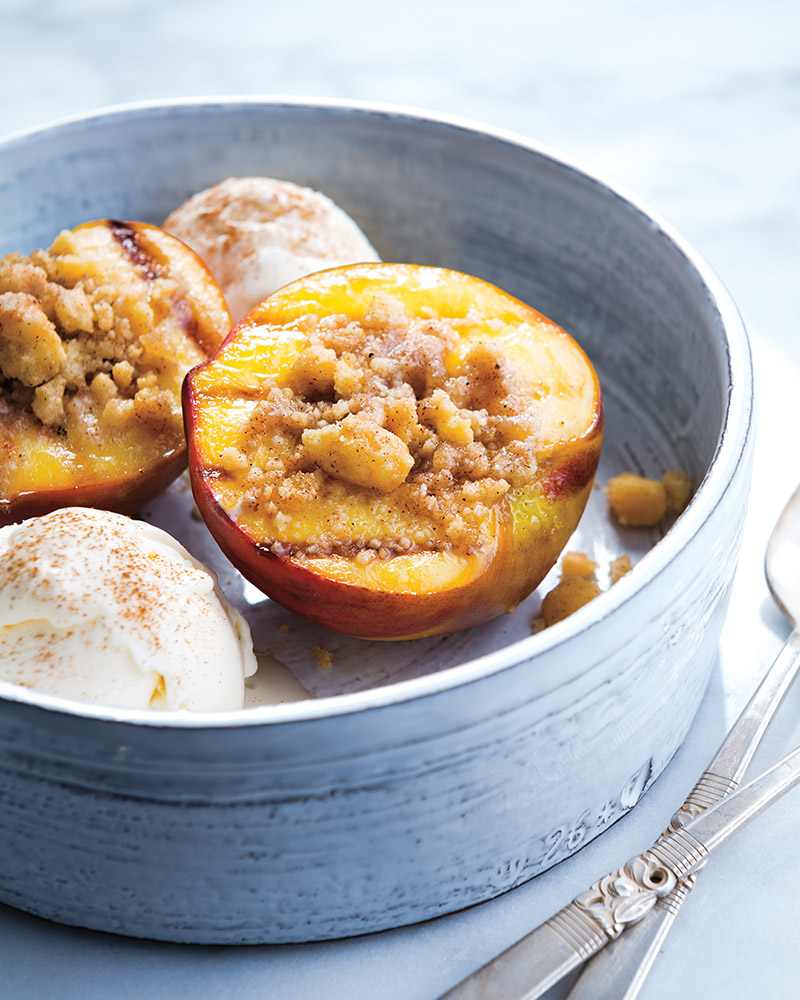 Grilled Peaches with Shortbread Crumble
Prep: 15 minutes
Grill: 12 minutes • Serves: 6
1/2
cup coarsely crushed shortbread cookies
1
tablespoon all-purpose flour
1
tablespoon light brown sugar
1/4
teaspoon ground cinnamon plus additional for sprinkling (optional)
1/8
teaspoon ground nutmeg
2
tablespoons unsalted butter, cut into small pieces
6
large peaches, halved and pitted
1
tablespoon vegetable oil
3
cups frozen vanilla yogurt
1.Prepare outdoor grill for direct grilling over medium heat. In medium bowl, combine shortbread crumbs, flour, sugar, cinnamon and nutmeg. With fingers, cut butter into flour mixture to coarse crumbs.

2.Brush cut sides of peaches with oil. Place peaches, cut side down, on hot grill rack; cover and cook 7 minutes or until grill marks appear. Turn peaches; spoon about 1 tablespoon crumb mixture into each peach half. Cover and cook 5 minutes longer or until grill marks appear.

3.Serve peaches with frozen yogurt; sprinkle with cinnamon, if desired.


Approximate nutritional values per serving: 

280 Calories, 11g Fat (5g Saturated), 22mg Cholesterol,
78mg Sodium, 42g Carbohydrates, 3g Fiber, 4g Protein

Cooking Clues
To coarsely crush cookies: Place cookies in large zip-top plastic bag; seal bag, pressing out excess air. With rolling pin or smooth side of meat mallet, coarsely crush cookies.
To halve peaches: with paring knife, cut each peach around center seam, then twist halves in opposite directions to separate.
Dietitian's tip:
> Add nuts, like walnuts or pecans, for a protein boost.