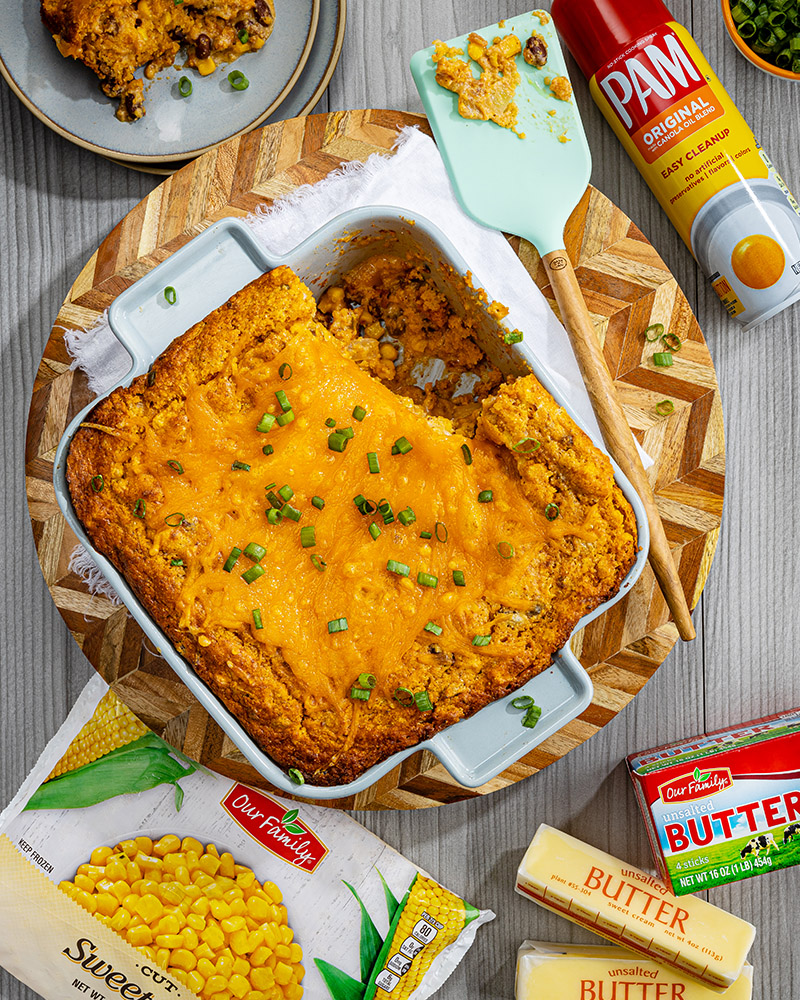 Click to See How-To Video!



Cornbread Chili Casserole
Prep: 10 minutes
Bake: 40 minutes • Serves: 8
PAM® original cooking spray
2
cans (15- to 16-ounces each) mild chili with beans
2
packages (8.5 ounces each)
Our Family® corn muffin mix
2
large eggs
1-1/2
cups frozen
Our Family® cut sweet corn
, thawed
2/3
cup whole milk
2
tablespoons
Our Family® unsalted butter
, melted
1-1/2
cups shredded Cheddar cheese
2
tablespoons thinly sliced green onion
1. Preheat oven to 375°; spray 8-inch square baking dish with cooking spray.

2. In large bowl, stir beans, corn muffin mixes, eggs, corn, milk and butter; spread in prepared dish and bake 35 minutes. Sprinkle casserole with cheese; bake 5 minutes or until cheese is melted. Sprinkle casserole with green onion; cut into 8 pieces.


Approximate nutritional values per serving (1 piece):
509 Calories, 24g Fat, 11g Saturated Fat, 93mg Cholesterol, 945mg Sodium,
58g Carbohydrates, 4g Fiber, 14g Sugars, 12g Added Sugars, 15g Protein