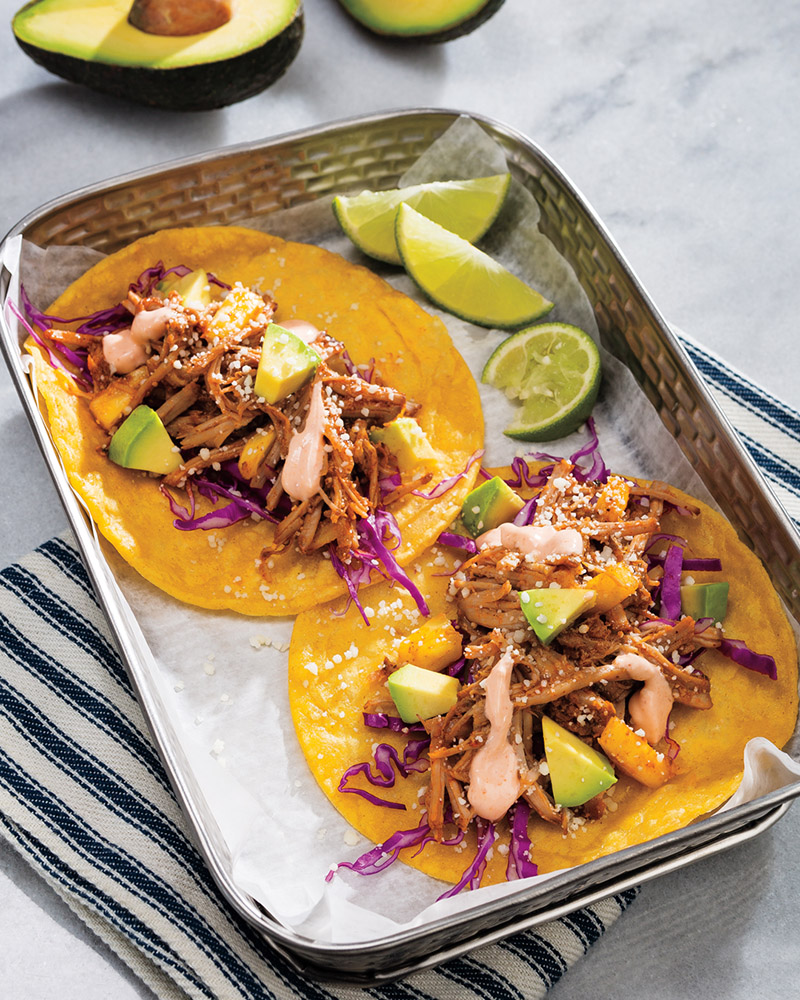 Slow Cooker Pulled Pork & Pineapple Tacos
Prep: 15 minutes
Slow Cook: 2 hours 30 minutes • Serves: 4
1
boneless pork loin end roast (about 1½ pounds)
1/2
cup barbeque sauce
1
cup chopped fresh pineapple or drained canned pineapple in 100% juice
1/2
cup plain nonfat Greek yogurt
1
tablespoon sriracha (optional)
8
(6-inch) yellow corn tortillas, warmed
1
large avocado, peeled, pitted and diced
2
cups shredded red cabbage
1/4
cup crumbled Cotija cheese
Lime wedges for garnish (optional)
1. In 5- to 6-quart slow cooker, add pork, barbeque sauce and 1 cup water; cover and cook on high 2-1/2 hours or low 5 hours or until pork is very tender. Shred pork with two forks; stir in pineapple. Makes about 3-1/2 cups.

2.In small bowl, whisk yogurt and sriracha.

3.Fill tortillas with pork mixture, avocado, cabbage and cheese; drizzle with yogurt mixture and serve with lime wedges, if desired.


Approximate nutritional values per serving (2 tacos):
475 Calories, 16g Fat (4g Saturated), 101mg Cholesterol,
564mg Sodium, 43g Carbohydrates, 5g Fiber, 41g Protein

Chef Tip
To change up the flavor profile, try different varieties of barbeque sauce like spicy, smoky or fruit-forward.
Dietitian's tip:
> Double the slow cooker recipe so you can freeze leftovers. Defrost when needed and just stir in the pineapple and mix together the toppings.