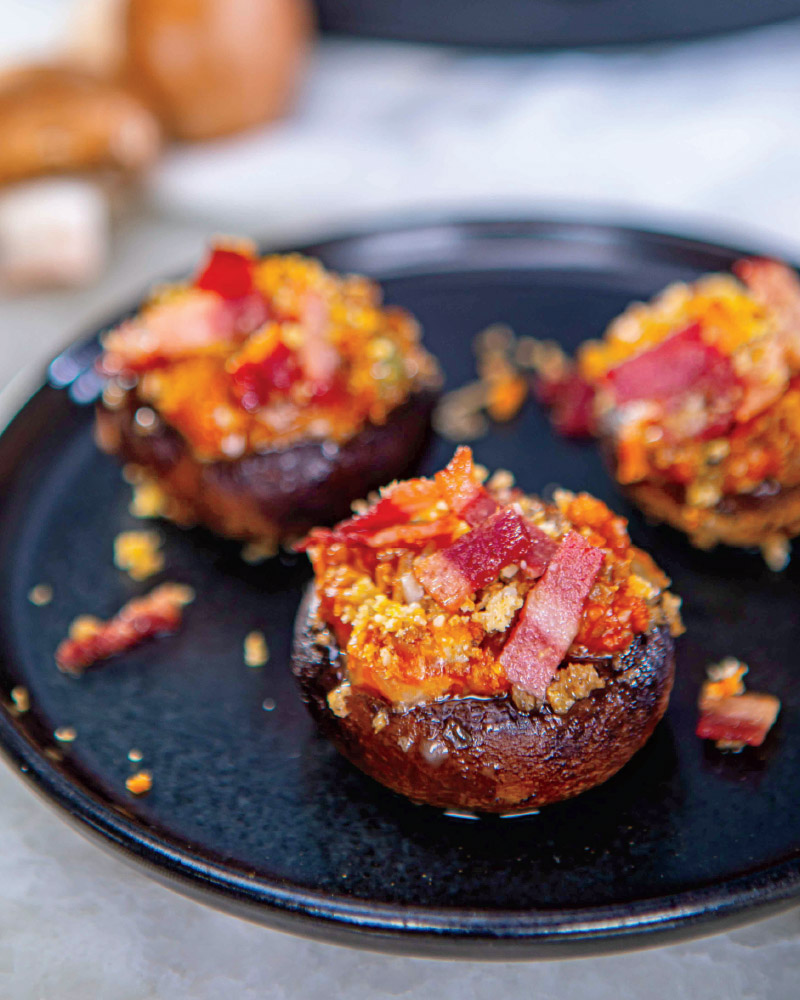 Better-For-You Pizza Mushroom Poppers
Prep: 25 minutes plus cooling
Bake: 25 minutes • Serves: 6
Nonstick cooking spray
18
cremini mushrooms, caps separated from stems, stems finely chopped
1/4
cup low sodium chicken broth
1
tablespoon olive oil
2
slices lower sodium turkey bacon, chopped
2
tablespoons finely chopped green bell pepper
2
garlic cloves, minced
3
cup shredded low-moisture part-skim mozzarella cheese
1/4
cup low sodium marinara sauce
1/8
teaspoon salt
1/8
teaspoon ground black pepper
1
tablespoon grated Parmesan cheese
1
tablespoon whole wheat panko breadcrumbs
Chopped fresh rosemary for garnish (optional)
1.Preheat oven to 375°; spray rimmed baking pan with cooking spray. Place mushroom caps, gill side up, on prepared pan; drizzle with broth. Bake mushrooms 15 minutes; reserve any liquid remaining in caps.

2.In large skillet, heat oil over medium-high heat. Add bacon; cook 4 minutes or until crisp, stirring occasionally. With slotted spoon, transfer bacon to paper towel-lined plate.

3.In same skillet, cook bell pepper and mushroom stems 2 minutes, stirring occasionally. Add garlic; cook 30 seconds, stirring occasionally. Add reserved liquid; cook 3 minutes or until liquid is absorbed, stirring occasionally. Remove from heat and cool slightly; stir in mozzarella cheese, sauce, salt and black pepper. Makes about 3/4 cup.

4.In small bowl, stir Parmesan cheese and breadcrumbs. Fill mushrooms with bell pepper mixture; top with bacon and breadcrumb mixture. Bake mushrooms 10 minutes or until golden brown and heated through; sprinkle with rosemary, if desired. Makes 18 poppers.


Approximate nutritional values per serving (3 poppers):
72 Calories, 5g Fat (1g Saturated), 8mg Cholesterol,
161mg Sodium, 4g Carbohydrates, 1g Fiber, 4g Protein

Dietitian's tip:
> The best way to clean mushrooms is to use a wet paper towel or cloth. The trick is to rub the dirt off the mushroom, but not to add too much water, as a mushroom is a sponge and will absorb the water into the pores.