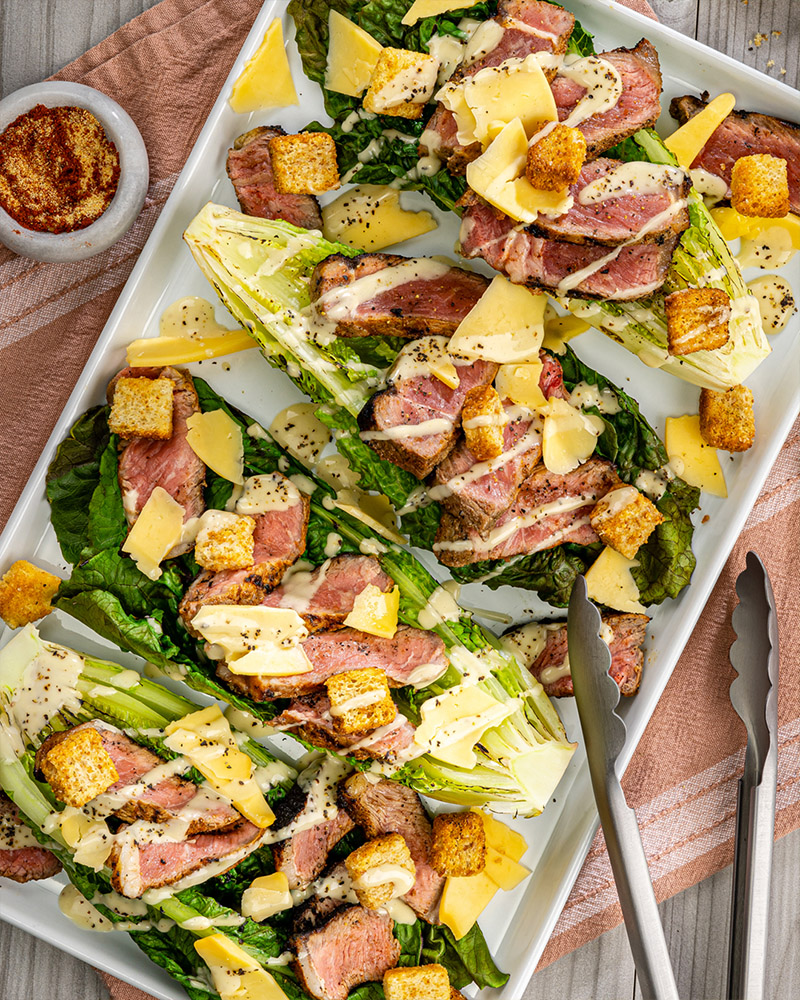 Click to See How-To Video!



Smoky Steak Caesar Salad
Prep: 10 minutes plus standing
Grill: 10 minutes • Serves: 4
1/4
cup
Our Family® 100% pure olive oil
2-1/4
teaspoons
Our Family® garlic powder
2-1/4
teaspoons smoked paprika
2
USDA Choice New York strip steaks (about 1 1/4 pounds)
2
large romaine hearts, halved lengthwise
1/2
cup shaved smoked Gouda cheese
1/2
cup
Wish-Bone® creamy Caesar dressing
1/2
cup
Our Family® Caesar croutons
1. Prepare outdoor grill for direct grilling over medium-high heat. In small bowl, stir oil, garlic powder and paprika; brush over both sides of steak.

2. Place steaks on hot grill rack; cover and cook 10 minutes or until internal temperature reaches 135° for medium-rare, turning once. During last 3 minutes of cooking, place romaine hearts, cut side down, on hot grill rack; cover and cook 3 minutes or until grill marks appear. Transfer steaks to cutting board; tent with aluminum foil and let stand 10 minutes. (Internal temperature will rise to 145° upon standing.)

3. Serve steaks over romaine hearts topped with cheese, dressing and croutons.


Approximate nutritional values per serving (about 4 ounces steak, 1/2 romaine heart):
666 Calories, 52g Fat, 14g Saturated Fat, 129mg Cholesterol, 623mg Sodium,
10g Carbohydrates, 3g Fiber, 2g Sugars, 0g Added Sugars, 39g Protein