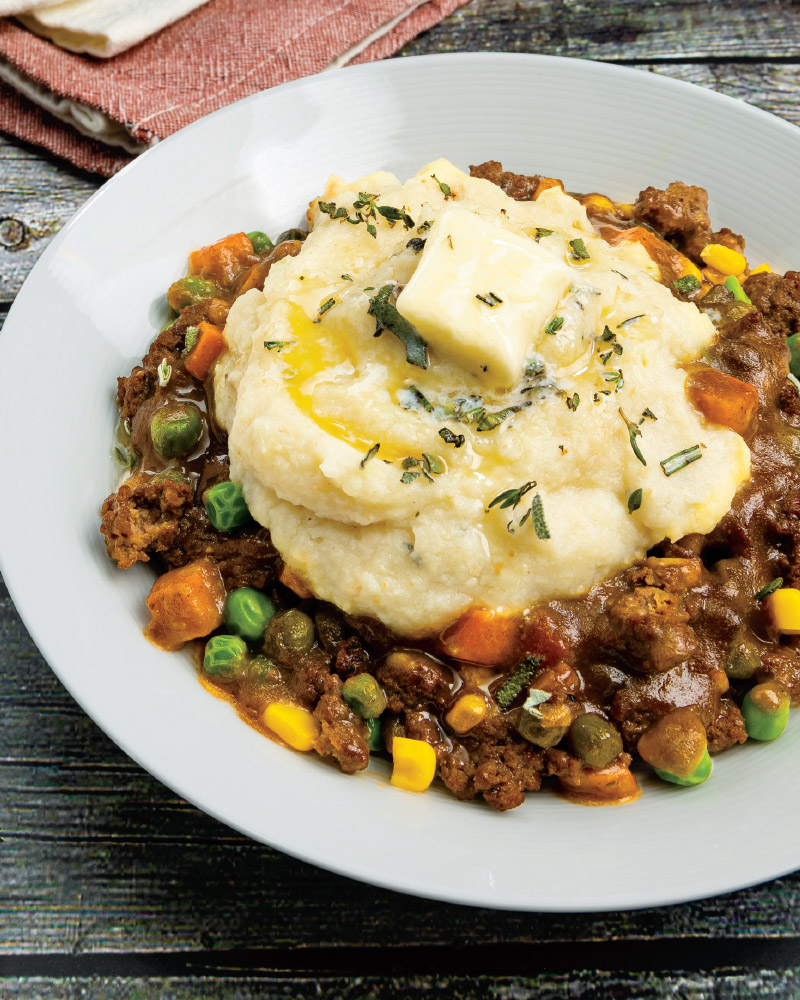 Lighter Slow Cooker Shepherd's Pie
Prep: 20 minutes
Slow Cook: 2 hours • Serves: 6
Nonstick cooking spray
1-1/2
pounds 93% lean ground beef
1
tablespoon olive oil
2
packages (10 ounces each) fresh riced cauliflower
2
tablespoons unsalted butter
1
can (15 ounces) mixed vegetables, drained
1
can (10.5 ounces) beef gravy
1-1/2
tablespoons finely chopped fresh poultry herbs
1/2
teaspoon ground black pepper
1.Heat large skillet over medium-high heat; spray with cooking spray. Add beef; cook 8 minutes or until browned, breaking up beef with back of spoon.

2.In medium saucepot, heat oil over medium-high heat. Add cauliflower; cook 5 minutes or until browned, stirring occasionally. In food processor, purée butter and cauliflower 20 seconds or until almost smooth.

3.In 6-quart slow cooker, stir mixed vegetables, gravy, 1 tablespoon herbs, beef and pepper; spread cauliflower mixture over beef mixture and sprinkle with remaining 1/2 tablespoon herbs. Cover and cook on high 2 hours or low 4 hours. Makes about 6 cups.


Approximate nutritional values per serving (1 cup):
320 Calories, 16g Fat (6g Saturated), 86mg Cholesterol,
518mg Sodium, 15g Carbohydrates, 4g Fiber, 29g Protein

Chef Tip
Customize this recipe by substituting ground turkey for the beef and/or mashed potatoes for the riced cauliflower.
Dietitian's tip:
> Swap out canned mixed vegetables for frozen per your preference. Both contain similar nutritional value while saving you time prepping.