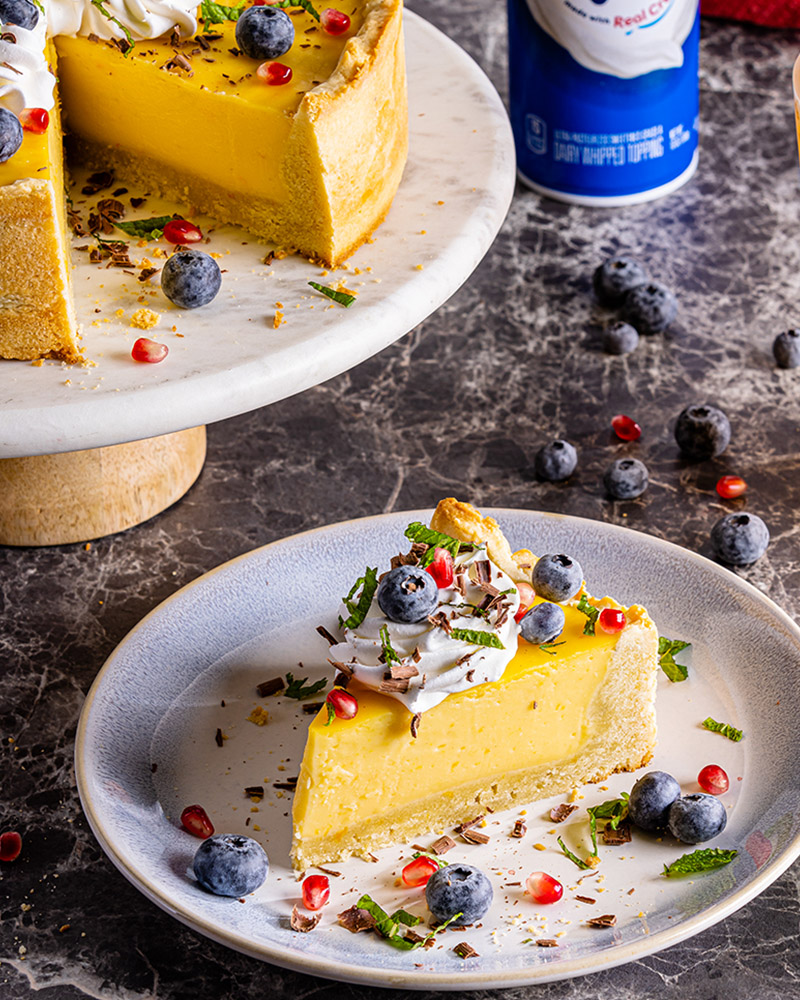 Click to See How-To Video!



Holiday Orange Tart with Whipped Cream
Prep: 30 minutes plus chilling and standing
Cook: 5 minutes • Serves: 10
1
cup Martin's unsalted butter (2 sticks), cut into 1/2-inch pieces and softened
1/2
cup Our Family® powdered sugar
5
Martin's large eggs
1-1/4
cups Our Family® all-purpose flour plus additional for dusting
1/2
cup super-fine almond flour
1/4
teaspoon kosher salt
Nonstick cooking spray
1/3
cup Our Family® granulated sugar
1/4
cup Our Family® corn starch
1-1/2
cups fresh orange juice
1
tablespoon orange zest
1-1/2
cups Reddi-Wip® extra creamy
1/2
cup blueberries
1/4
cup pomegranate arils
2
tablespoons shaved dark chocolate
1
tablespoon thinly sliced mint leaves
1. In large bowl, with mixer on medium-high speed, beat 1/2 cup butter and powdered sugar 2 minutes or until light and fluffy. Add 1 egg; beat 1 minute or until incorporated. Reduce speed to low. Add flours and salt; beat 1 minute or until just incorporated. Form dough into a disk; wrap with plastic wrap and refrigerate 1 hour.

2. Spray 9-inch springform pan with cooking spray. Unwrap dough and transfer to prepared pan; gently press into bottom and up sides of pan. Cover with plastic wrap; refrigerate 30 minutes or up to overnight.

3. Preheat oven to 325°. Prick bottom and sides of dough with fork at 1-inch intervals; bake 25 minutes or until edges are lightly browned, popping any bubbles that form with toothpick. Cool crust in pan on wire rack 30 minutes.

4. In large bowl, whisk granulated sugar, corn starch and remaining 4 eggs. In medium saucepot, heat orange juice to a simmer over medium-low heat. Slowly ladle 1/2 the orange juice into the egg mixture while whisking constantly; whisk until smooth. Add juice-egg mixture back to saucepot; cook 5 minutes or until thickened, whisking constantly. Remove from heat; let stand 5 minutes.

5. Whisk zest and remaining 1/2 cup butter into orange juice mixture until smooth; spread in crust and refrigerate at least 3 hours or up to overnight.

6. Cut tart into 10 slices; serve garnished with Reddi-Wip, blueberries, pomegranate arils, chocolate and mint.


Approximate nutritional values per serving (1 slice):
402 Calories, 25g Fat, 13g Saturated Fat, 148mg Cholesterol,
83mg Sodium, 38g Carbohydrates, 1g Fiber, 20g Sugars, 14g Added Sugars, 7g Protein