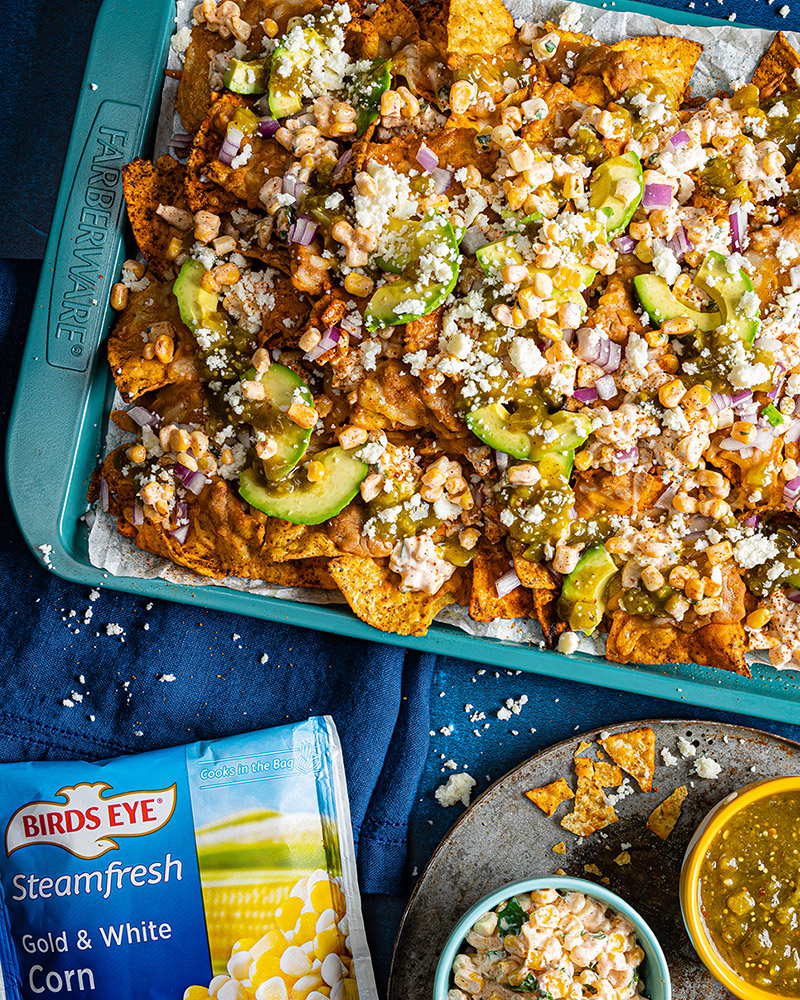 Click to See How-To Video!



Mexican Street Corn Nachos
Prep: 15 minutes
Bake: 10 minutes • Serves: 6
Nonstick cooking spray
2
tablespoons
Our Family® real mayonnaise
2
tablespoons
Martin's sour cream
1
tablespoon chopped fresh cilantro
1
tablespoon fresh lime juice
3/4
teaspoon
Our Family® chili powder
1-1/2
cups frozen
Birds Eye® Steamfresh gold & white corn
, thawed
1
bag (10.5 ounces) nacho cheese tortilla chips
1-1/2
cups shredded Colby Jack cheese
1/2
cup
Our Family® traditional refried beans
1
avocado, peeled, pitted and chopped
1/3
cup finely chopped red onion
1/3
cup salsa verde
1/2
cup crumbled queso fresco cheese
1. Preheat oven to 400°; spray rimmed baking pan with cooking spray. In large bowl, stir mayonnaise, sour cream, cilantro, lime juice and chili powder; fold in corn. Makes about 1-3/4 cups.

2. Spread chips on prepared pan; top with Colby Jack cheese and beans. Bake nachos 10 minutes or until golden brown and cheese melts. Makes about 8 cups.

3. Serve nachos topped with corn mixture, avocado, onion and salsa; sprinkle with queso fresco cheese.


Approximate nutritional values per serving (about 1-2/3 cups):
588 Calories, 33g Fat, 10g Saturated Fat, 36mg Cholesterol, 887mg Sodium,
54g Carbohydrates, 7g Fiber, 4g Sugars, 0 Added Sugars, 15g Protein