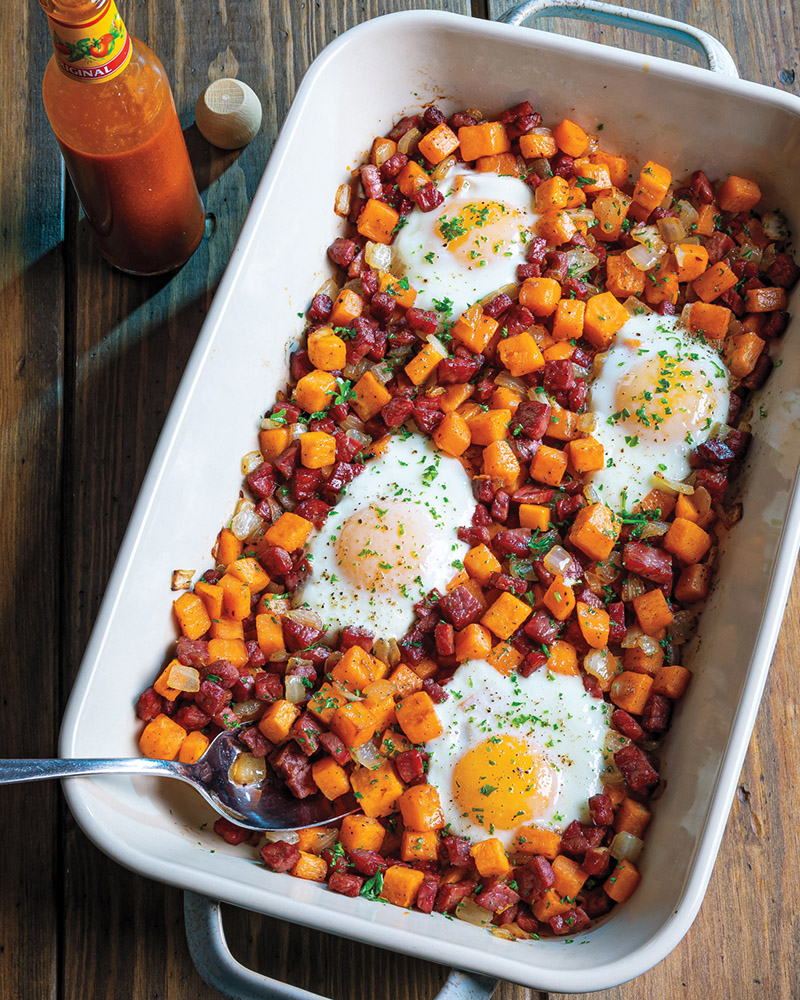 St. Patty's Corned Beef-Sweet Potato Hash
Prep: 30 minutes plus cooling and freezing
Bake: 25 minutes • Serves: 4
Hash
Nonstick cooking spray
1-1/2
tablespoons olive oil
1
large sweet potato, peeled and diced
1/2
medium yellow onion, finely chopped
1-1/2
cups chopped thick-sliced deli corned beef
1/4
teaspoon ground black pepper
For Serving
4
large eggs
2
teaspoons chopped parsley
Hot sauce for serving (optional)
1.Hash: Line rimmed baking pan or 13 x 9-inch baking dish with foil; spray with cooking spray. In large nonstick skillet, heat oil over medium heat. Add potato and cover; cook and stir 8 minutes. Add onion; cook and stir 3 minutes. Add corned beef; cook and stir 3 minutes or until corned beef and potato are golden brown. Stir in 1/4 teaspoon pepper. Makes about 5 cups.

2.Transfer hash to prepared pan; spread into 12 x 9-inch rectangle and cool slightly. Tightly wrap pan with plastic wrap, then foil; freeze up to 2 months.

3.For Serving: Preheat oven to 425°. Remove plastic wrap and foil from pan; bake hash 20 minutes. Remove pan from oven; with back of large spoon, make 4 wells in hash. Crack 1 egg into each well; bake 5 minutes or until egg whites are cooked through and yolks are slightly soft.

4.Serve hash sprinkled with parsley and hot sauce, if desired.


Approximate nutritional values per serving (1 egg, 1-1/4 cups hash):
304 Calories, 20g Fat (6g Saturated), 236mg Cholesterol,
570mg Sodium, 14g Carbohydrates, 2g Fiber, 17g Protein

Dietitian's tip:
> Add 2 cups of kale into the skillet with the corned beef for an extra serving of vegetables.