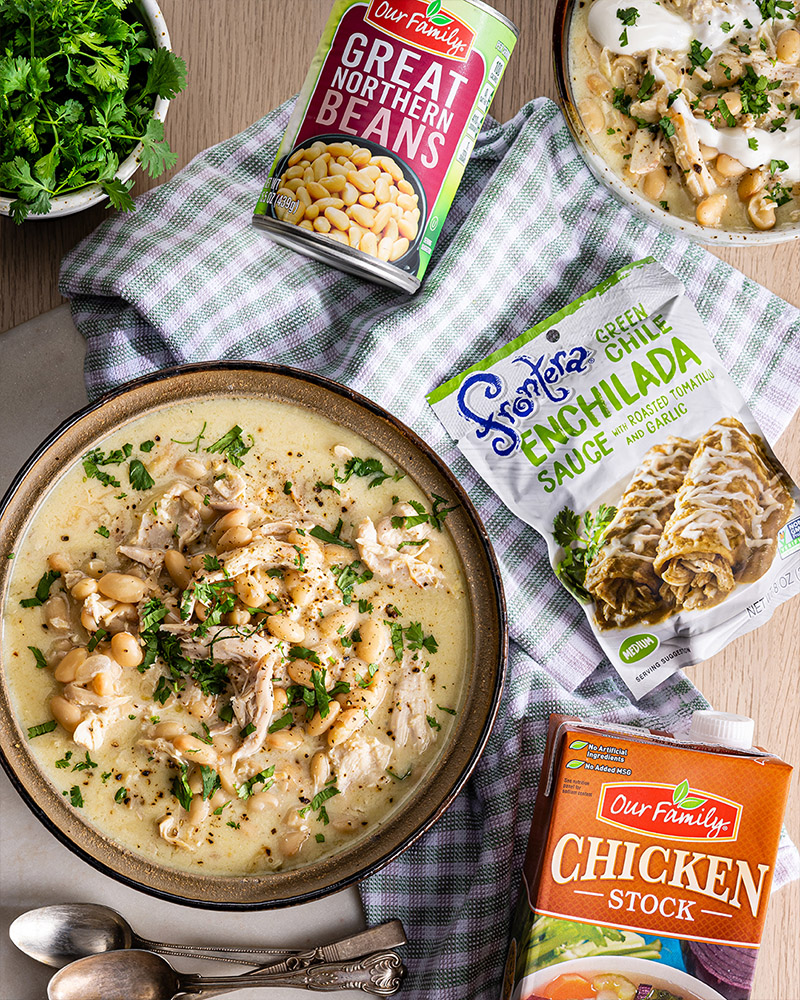 Click to See How-To Video!



5-Ingredient White Chicken Chili
Prep: 10 minutes
Cook: 20 minutes • Serves: 8
1
package (8 ounces) Frontera® green chile enchilada sauce
3
cups Our Family® chicken stock
1/2
cup Martin's sour cream plus additional for garnish (optional)
2
cans (15 ounces each) Our Family® great Northern beans, drained and rinsed
3
cups shredded rotisserie chicken meat
Chopped fresh cilantro for garnish (optional)
1. In large saucepot, heat sauce and stock to a simmer over medium heat, stirring occasionally.

2. In small bowl, add sour cream; whisking constantly, ladle 1/2 cup sauce mixture into sour cream. Whisk sour cream mixture into saucepot. Add beans and chicken; cook over medium heat 10 minutes or until slightly thickened, stirring occasionally. Makes about 8 cups.

3. Serve chili garnished with sour cream and cilantro, if desired.


Approximate nutritional values per serving (1 cup):
226 Calories, 9g Fat, 4g Saturated Fat, 57mg Cholesterol, 874mg Sodium,
17g Carbohydrates, 5g Fiber, 2g Sugars, 0g Added Sugars, 19g Protein