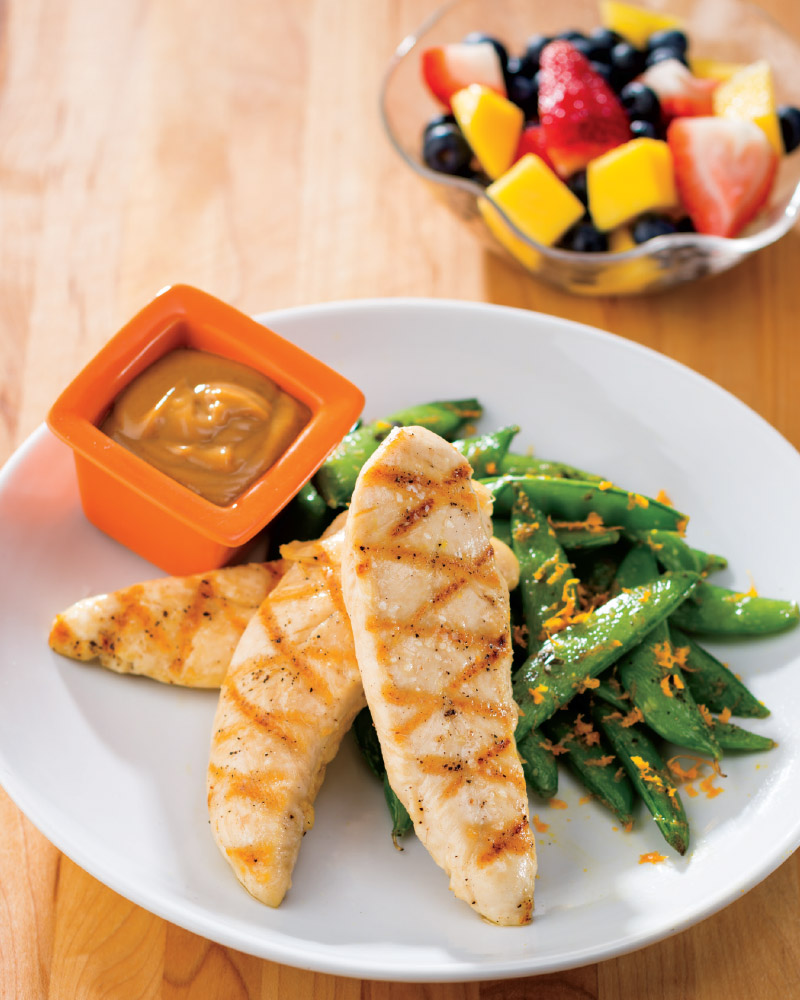 Grilled Chicken Tenders with Nutty Dipping Sauce & Crispy Sautéed Snap Peas
Prep: 15 minutes
Grill/Cook: 10 minutes • Serves: 4
1
garlic clove, minced
1/2
cup peanut or sunflower butter
1/2
cup water
2
tablespoons less sodium soy sauce
1
tablespoon fresh lime juice
1
tablespoon toasted sesame oil
2
teaspoons brown sugar
1-1/4
pounds chicken breast tenderloins
2
teaspoons olive oil
1/2
teaspoon salt
1/4
teaspoon ground black pepper
1
package (8 ounces) snap peas
3
tablespoons fresh orange juice
1
teaspoon orange zest
1.Prepare outdoor grill for direct grilling over medium heat. In small bowl, whisk garlic, peanut butter, water, soy sauce, lime juice, 1 teaspoon sesame oil and sugar.

2.Coat chicken with olive oil, 1/4 teaspoon salt and 1/8 teaspoon pepper. Place chicken on hot grill rack; cook, covered, 8 minutes or until internal temperature reaches 165°, turning once.

3.In large skillet, heat remaining 2 teaspoons sesame oil over medium-high heat. Add snap peas and cook 2 to 3 minutes or until tender-crisp; stir in juice, zest and remaining 1/4 teaspoon salt and 1/8 teaspoon pepper.

4.Serve chicken with sauce for dipping and snap peas.


Approximate nutritional values per serving:
399 Calories, 24g Fat (4g Saturated), 61mg Cholesterol,
786mg Sodium, 16g Carbohydrates, 3g Fiber, 33g Protein

Dietitian's tip:
> Looking to avoid soy or sodium in your diet? Swap a low-sodium soy sauce for coconut aminos.