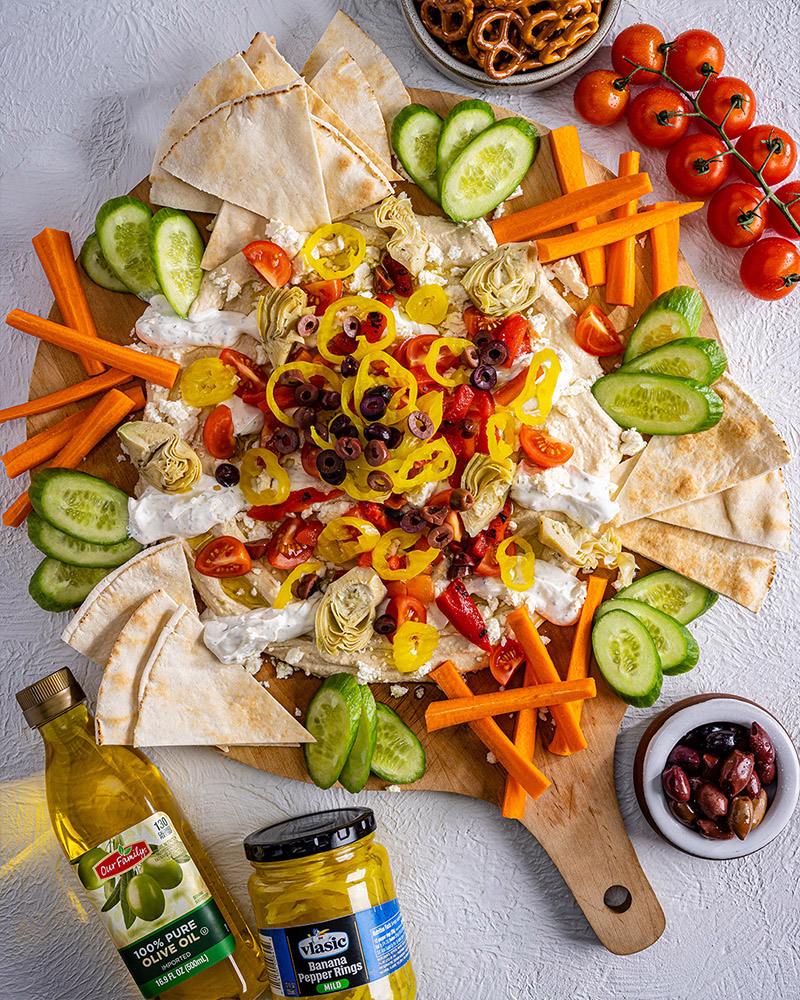 Click to See How-To Video!



Hummus Board
Prep: 20 minutes • Serves: 12
2
cups Fresh & Finest by Our Family® hummus
1/2
cup tzatziki sauce
2
tablespoons Our Family® 100% pure olive oil
1/2
cup crumbled feta cheese
1/2
cup drained quartered artichoke hearts in water
1/2
cup quartered red and/or yellow cherry tomatoes
1/4
cup drained chopped roasted red peppers
1/4
cup drained Vlasic® mild banana pepper rings
3
tablespoons drained sliced Kalamata olives
1/2
(14-ounce) package carrot sticks
3
mini cucumbers, thinly sliced crosswise
3
pita bread loaves, each cut into 8 wedges
2
cups Our Family® mini twists pretzels
Lemon wedges for serving (optional)
1. Spread hummus over large cutting board; drizzle with sauce and oil. Sprinkle with cheese, artichokes, tomatoes, red peppers, banana peppers and olives. Makes about 4 cups.

2. Serve hummus mixture with carrots, cucumbers, pita bread, pretzels and lemon wedges, if desired.


Approximate nutritional values per serving (1/3 cup hummus mixture, 2 carrot sticks, 1/3 cucumber, 2 pita wedges and 1/8 cup pretzels):
210 Calories, 9g Fat, 2g Saturated Fat, 6mg Cholesterol, 528mg Sodium,
25g Carbohydrates, 3g Fiber, 4g Sugars, 1g Added Sugars, 8g Protein