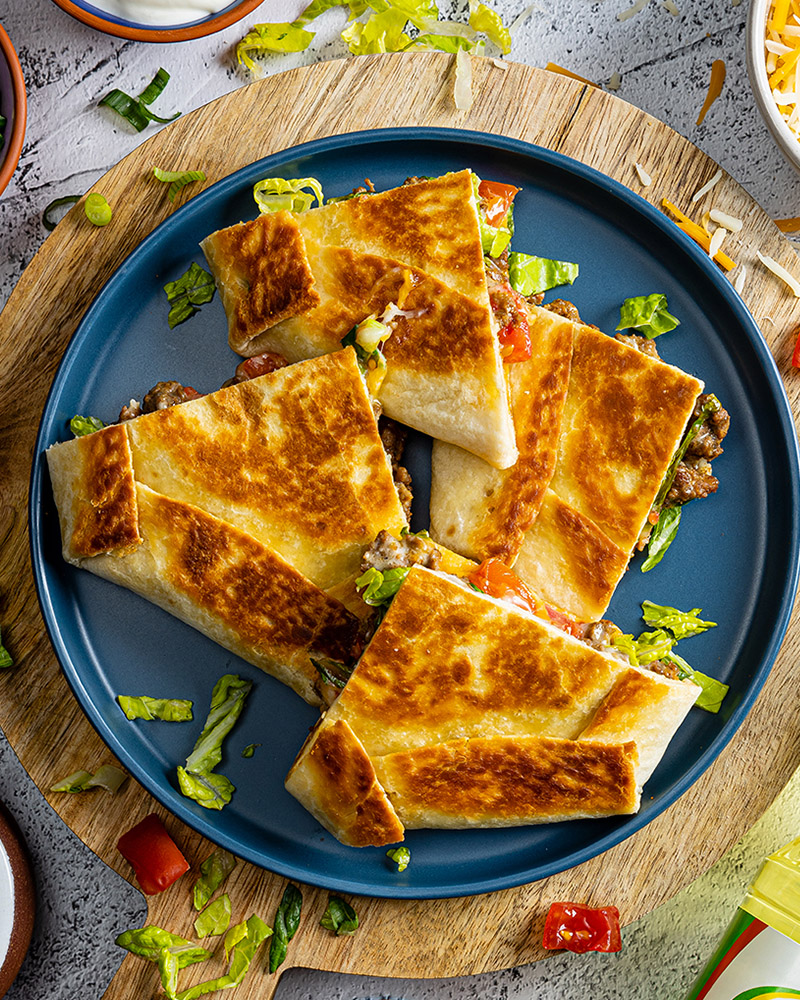 Click to See How-To Video!



Crunchy Taco Wraps
Prep: 20 minutes
Cook: 20 minutes • Serves: 6
1
pound 80% lean ground beef
1
package (1.25 ounce)
Our Family® taco seasoning
6
(10-inch) flour tortillas
6
tostada shells
2
green onions, thinly sliced
2
Roma tomatoes, chopped
1-1/2
cups shredded Mexican blend cheese
1-1/2
cups thinly sliced romaine lettuce
1/2
cup
Martin's sour cream
6
(6-inch) flour tortillas
3
tablespoons
Smart Balance® vegetable oil blend
1.In large skillet, cook beef over medium-high heat 8 minutes or until browned, breaking up beef with side of spoon; drain. Stir in seasoning and 2/3 cup water; cook 4 minutes or until liquid is absorbed, stirring occasionally.

2. Place 10-inch tortillas on work surface; top with tostada shells, onions, tomatoes, cheese, lettuce, sour cream, beef mixture and 6-inch flour tortillas. Starting with bottom edge of 1 (10-inch) tortilla, working in a circle around filling, fold in edges; repeat with remaining (10-inch) tortillas.

3. In batches, on griddle or in large skillet, heat oil over medium-high heat. Add wraps, seam side down; cook 10 minutes or until golden brown and heated through, turning once.


Approximate nutritional values per serving (1 wrap):
717 Calories, 37g Fat, 15g Saturated Fat, 81mg Cholesterol, 1626mg Sodium,
66g Carbohydrates, 4g Fiber, 6g Sugars, 4g Added Sugars, 31g Protein