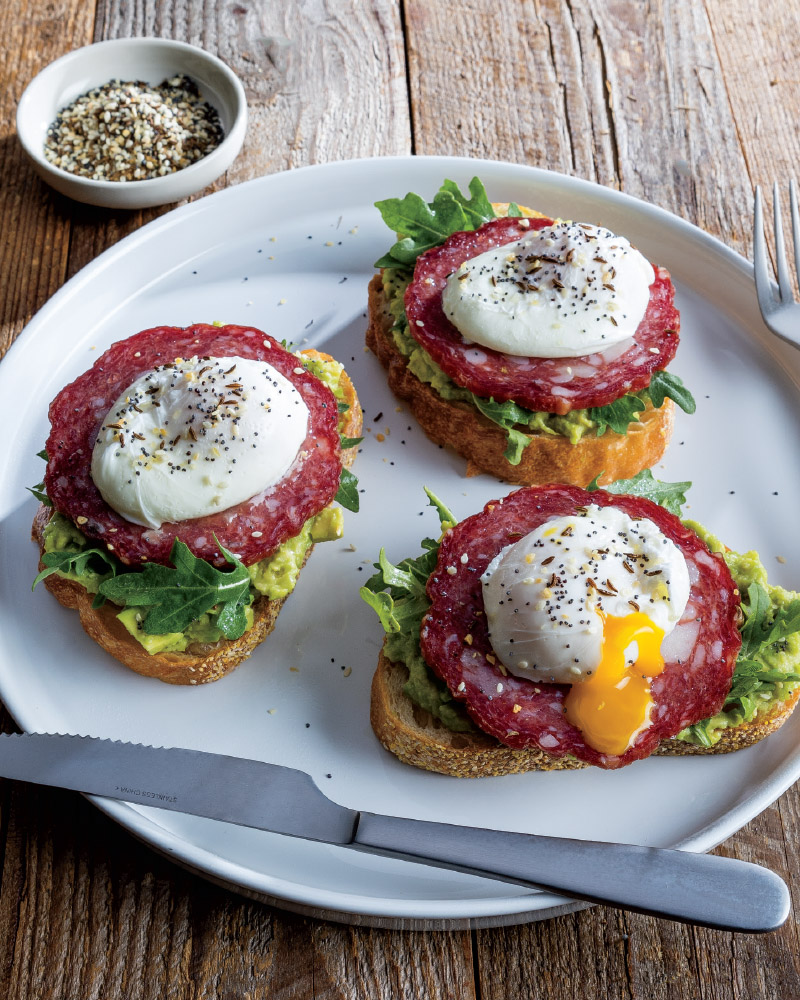 Click to See How-To Video!



Everything Avocado Toast
Prep: 10 minutes
Cook: 8 minutes • Serves: 4
1
teaspoon dried minced garlic
1
teaspoon poppy seeds
1
teaspoon toasted sesame seeds
1/2
teaspoon caraway seeds
1
tablespoon distilled white vinegar
1/4
teaspoon salt
4
large eggs
2
large avocados, pitted and chopped
1
tablespoon fresh lime juice
4
slices ciabatta bread
1
cup loosely packed baby arugula
4
thick slices hard salami (about 4 ounces)
1. In small bowl, stir garlic, poppy seeds, sesame seeds and caraway seeds.

2. In large skillet with 2-inch-high sides, add water to fill halfway; stir in vinegar and salt and heat to a simmer. Carefully crack eggs, 1 at a time, into small cup. Slowly slide eggs into water while immersing cup slightly in water. Cover tightly with lid; remove from heat. Let stand 4 minutes or until egg whites are cooked through and yolks are slightly soft.

3. In small bowl, smash avocados and lime juice with a fork.

4. Toast bread; spread with avocado mixture. Top with arugula, salami and poached eggs; sprinkle with seed mixture.


Approximate nutritional values per serving:
459 Calories, 27g Fat (7g Saturated), 204mg Cholesterol, 674mg Sodium,
38g Carbohydrates, 9g Fiber, 5g Sugars, 3g Added Sugars, 19g Protein