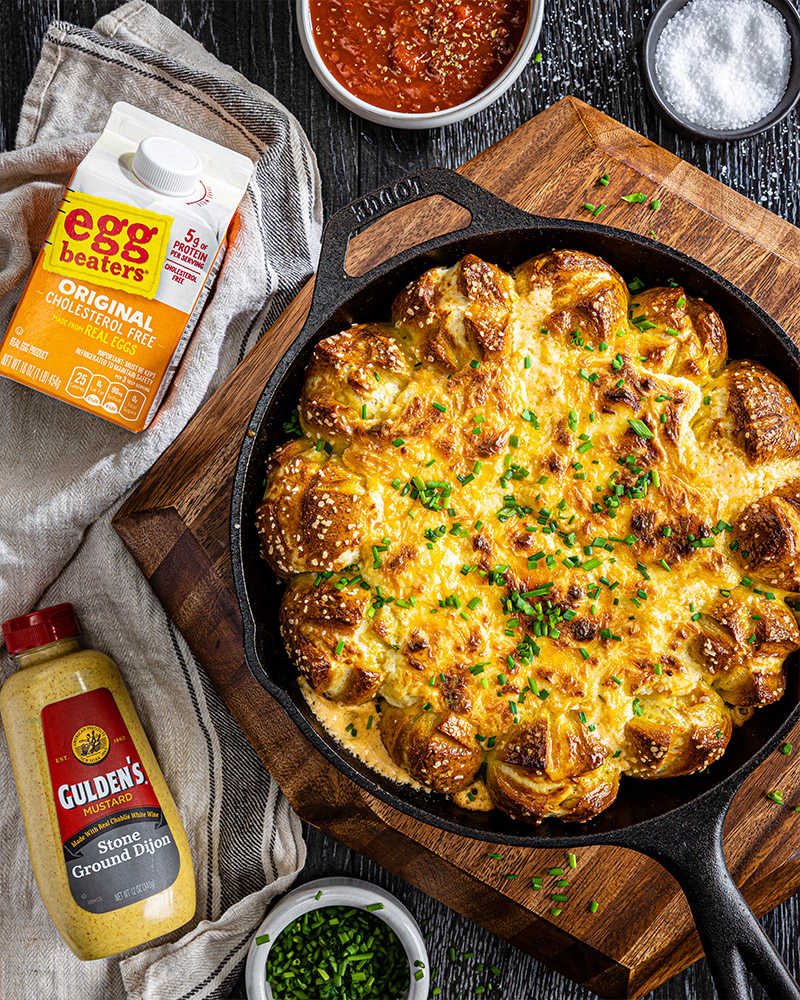 Click to See How-To Video!



Cheesy Pretzel Bread Skillet
Prep: 20 minutes plus thawing
Bake: 20 minutes • Serves: 12
1
pound fresh pizza dough
1/3
cup
Our Family® baking soda
3
tablespoons
Egg Beaters® original
1/2
teaspoon kosher salt
1/2
(8-ounce) package
Our Family® cream cheese
, cut into small pieces
2
cups shredded Cheddar cheese
1-1/2
cups shredded pepper Jack cheese
1/4
cup evaporated milk
1
teaspoon
Gulden's® stone ground Dijon mustard
1
teaspoon chopped fresh chives
1.Preheat oven to 450°. Cut dough ball into quarters; cut each quarter into thirds. Roll each dough piece into a ball; cut an "X" on top of each ball.

2.In medium saucepan, heat baking soda and 5 cups water to a boil over high heat. In batches, add dough balls to boiling water and cook 30 seconds; with slotted spoon, transfer to a paper towel-lined pan to drain.

3.Brush tops of dough balls with Egg Beaters; arrange around inside of a 10-inch cast-iron skillet and sprinkle with salt.

4.In medium bowl, stir cheeses, milk and mustard; transfer to center of skillet. Bake 15 minutes; loosely cover with aluminum foil and bake 5 minutes. Sprinkle cheese dip with chives. Makes 12 balls and about 3-3/4 cups dip.


Approximate nutritional values per serving (1 ball, 5 tablespoons dip):
238 Calories, 15g Fat, 8g Saturated Fat, 42mg Cholesterol, 1255mg Sodium,
15g Carbohydrates, 1g Fiber, 1g Sugars, 0g Added Sugars, 11g Protein

Chef Tip
Serve with marinara sauce on the side for dipping.