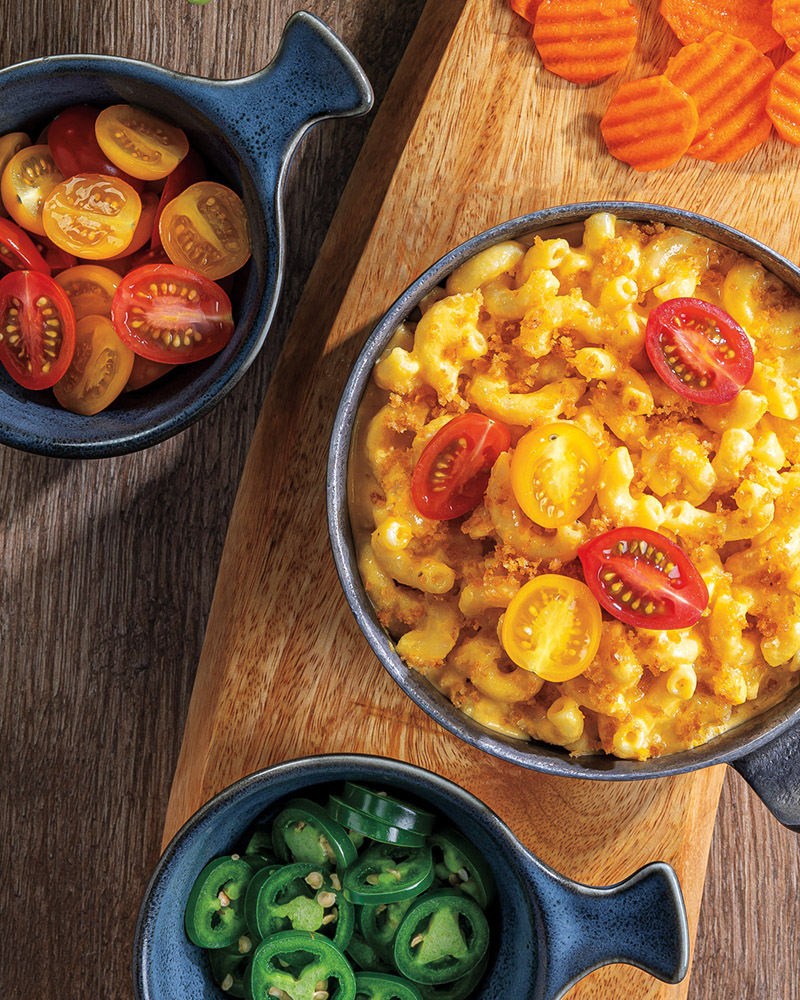 Click to See How-To Video!



Hidden Veggie Mac & Cheese
Prep: 5 minutes
Cook: 30 minutes • Serves: 8
1
package (16 ounces) small elbows
1
package (10 ounces) frozen riced cauliflower
3
cups whole milk
2
cups frozen crinkle cut carrots
2
tablespoons unsalted butter
2
tablespoons all-purpose flour
1/2
teaspoon kosher salt
1/4
teaspoon black pepper
1/2
(8-ounce) package cream cheese, cubed
2
cups shredded mild Cheddar cheese
1.Prepare elbows as label directs; drain, return to saucepot and cover.

2.In medium saucepot, cover and cook cauliflower, 2 cups milk and carrots over medium-high heat 10 minutes or until milk is steaming; uncover, reduce heat to medium and cook 5 minutes or until carrots are very tender, stirring frequently. Transfer to blender; purée until smooth.

3.In large saucepot, melt butter over medium heat; add flour and cook 2 minutes, stirring constantly. Stir in remaining 1 cup milk; heat to a boil over medium-high heat, stirring constantly. Stir in cauliflower mixture, salt and pepper; gradually stir in cheeses until smooth and creamy. Fold in elbows. Makes about 8 cups.


Approximate nutritional values per serving (1 cup):
478 Calories, 21g Fat (12g Saturated), 61mg Cholesterol,
414mg Sodium, 54g Carbohydrates, 3g Fiber, 19g Protein

Chef Tips
Hidden veggie cheese sauce is also great served over chicken, broccoli or baked potatoes.
Try serving topped with toasted breadcrumbs and/or halved grape tomatoes.
Dietitian's tip:
> When your kids try and love this recipe, fill them in on all the wonderful foods they have now tried and like. Sharing with them allows them to be more open to accepting these vegetables served in additional forms.