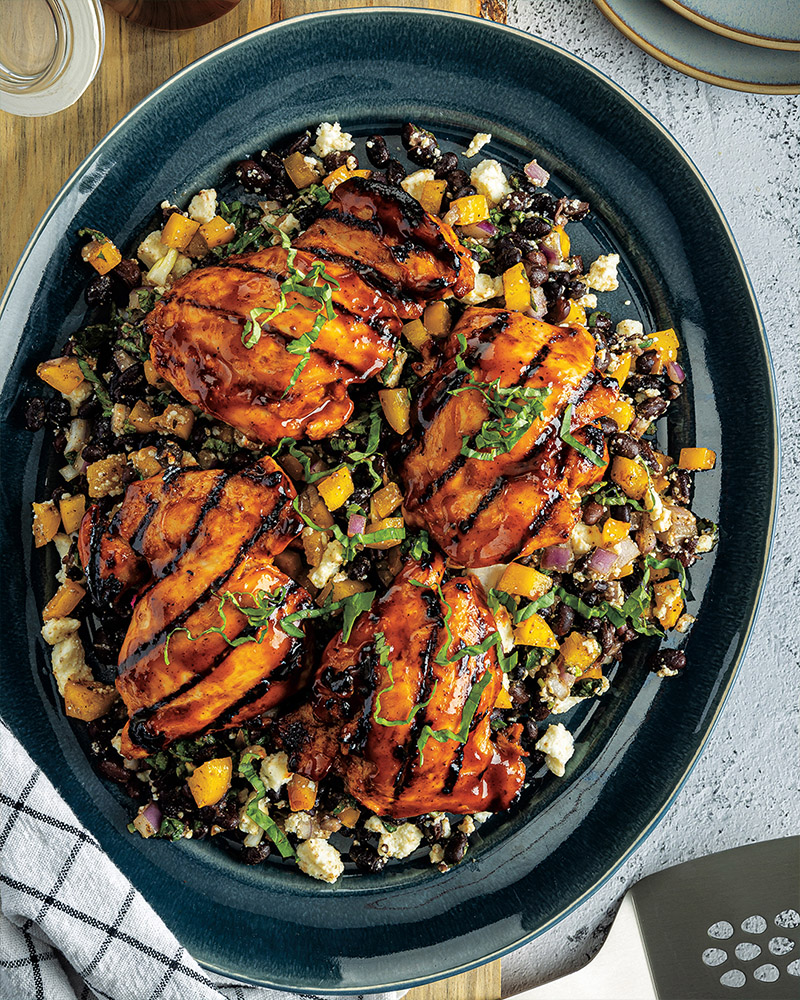 Click to See How-To Video!



BBQ Chicken Thighs with Black Bean Salad
Prep: 15 minutes
Grill: 10 minutes • Serves: 4
4
boneless, skinless chicken thighs (about 1 pound)
3/4
cup Open Pit® brown sugar & bourbon barbecue sauce
2
tablespoons fresh lime juice
1
tablespoon
Our Family® olive oil
1/2
teaspoon
Our Family® garlic powder
1/2
teaspoon
Our Family® ground cumin
1/4
teaspoon salt
1/4
teaspoon ground black pepper
1
can (15.25 ounces)
Our Family® no salt added black beans
, drained and rinsed
1/2
cup finely chopped yellow bell pepper
1/3
cup crumbled queso fresco plus additional for garnish (optional)
1/4
cup finely chopped red onion
2
tablespoons chopped fresh basil plus additional for garnish (optional)
1. Prepare outdoor grill for direct grilling over medium-high heat. Brush chicken with 1/4 cup barbecue sauce. Place chicken on hot grill rack; cover and cook 10 minutes or until internal temperature reaches 165°, brushing occasionally with remaining 1/2 cup barbecue sauce and turning once.

2. In large bowl, whisk lime juice, oil, garlic powder, cumin, salt and black pepper; fold in beans, bell pepper, queso fresco, onion and basil. Makes about 2 cups.

3. Serve bean salad topped with chicken thighs garnished with queso fresco and basil, if desired.


Approximate nutritional values per serving (1 chicken thigh, 1/2 cup black bean mixture):
380 Calories, 13g Fat, 4g Saturated Fat, 111mg Cholesterol, 769mg Sodium,
36g Carbohydrates, 5g Fiber, 16g Sugars, 15g Added Sugars, 27g Protein