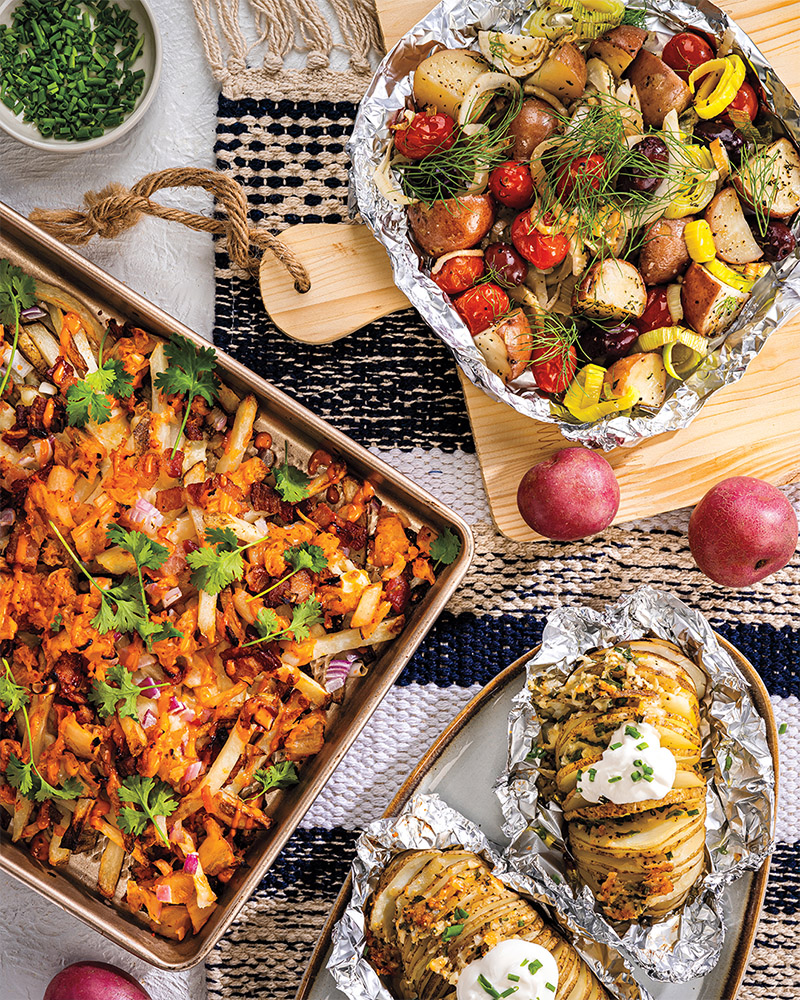 Click to See How-To Video!



Tuscan Grilled Potato Packets
Prep: 30 minutes
Grill: 30 minutes • Serves: 4
1
pound red new potatoes, quartered
1
small fennel bulb, halved and thinly sliced, 2 tablespoons fronds reserved for garnish
1/2
leek, thinly sliced crosswise
1
cup grape tomatoes
1/2
cup drained Kalamata olives
2
tablespoons olive oil
1
tablespoon white wine
2
teaspoons chopped fresh thyme
1/2
teaspoon salt
1/2
teaspoon ground black pepper
1. Prepare outdoor grill for direct grilling over medium heat; tear 4 (12 x 24-inch) sheets heavy-duty aluminum foil.

2. In large bowl, toss potatoes, fennel, leek, tomatoes, olives, oil, wine, thyme, salt and pepper. Makes about 8 cups.

3. Place 2 cups potato mixture in center of each foil sheet. Bring 2 edges of foil up over potato mixture and fold to seal; fold sides of foil to seal. Place packets, sealed side up, on hot grill rack; cover and cook 30 minutes or until potatoes are tender. With scissors or knife, cut an "X" in center of packets; carefully pull back foil to open and serve in packets garnished with fronds. Makes 4 packets.


Approximate nutritional values per serving (1 packet):
258 Calories, 14g Fat, 1g Saturated Fat, 0mg Cholesterol, 728mg Sodium,
33g Carbohydrates, 4g Fiber, 5g Sugars, 0g Added Sugars, 4g Protein