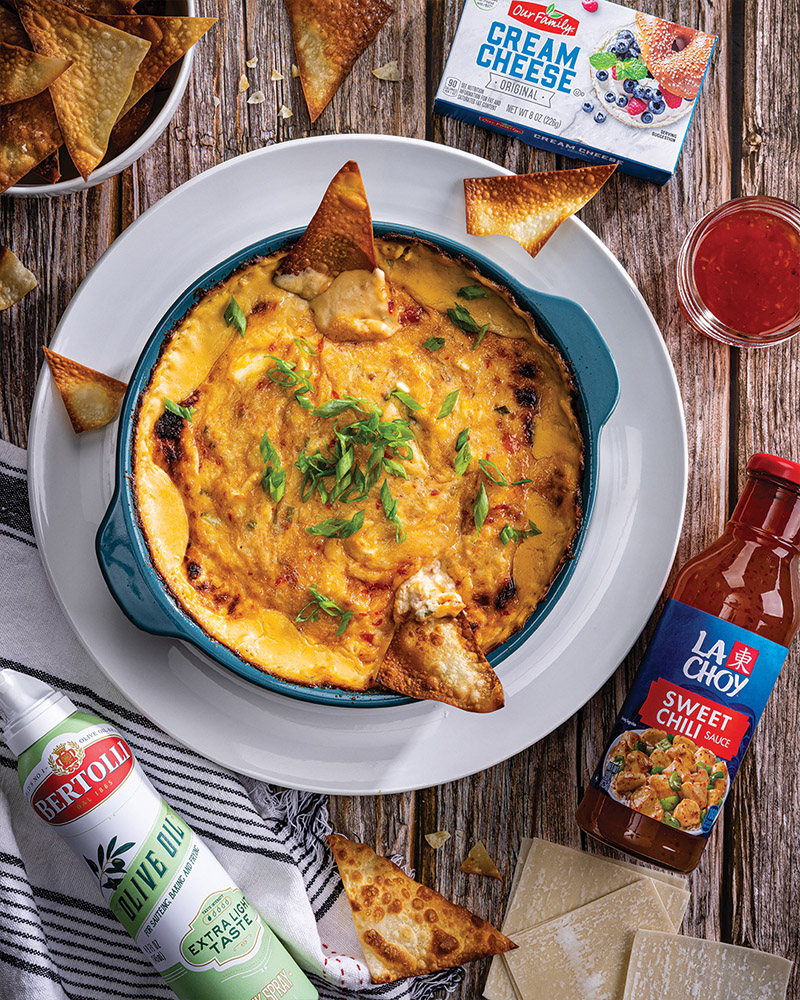 Click to See How-To Video!



Crab Rangoon Dip with Wonton Chips
Prep: 15 minutes
Grill: 1 hour 10 minutes • Serves: 16
Bertolli® light taste extra virgin olive oil spray
24
wonton wrappers, halved diagonally
1
teaspoon salt
2
cans (4 ounces each) canned crab meat, drained and picked through
1
package (8 ounces)
Our Family® plain cream cheese
, softened
2
garlic cloves, minced
1
cup
Martin's sour cream
1/2
cup
La Choy® sweet chili stir-fry sauce & marinade
2
tablespoons sliced green onion plus additional for garnish (optional)
1.Prepare outdoor grill for indirect grilling over high heat; spray 1-quart baking dish with cooking spray. Spray 2 rimmed baking pans with cooking spray. Lay wrappers in single layer on prepared pans; spray with cooking spray and sprinkle with salt. In 2 batches, place pan over unlit side of grill; cover and cook 15 minutes or until golden brown. Transfer chips to wire rack to cool. Makes 48 chips.

2. In large bowl, stir crab, cream cheese, garlic, sour cream, sauce and onion; spread in prepared dish. Place dish over unlit side of grill; cover and cook 40 minutes or until top is golden brown and heated through. Makes about 2 cups.

3. Serve dip garnished with onions, if desired, along with wonton chips.


Approximate nutritional values per serving (2 tablespoons dip, 3 chips):
139 Calories, 7g Fat, 4g Saturated Fat, 36mg Cholesterol, 334mg Sodium,
13g Carbohydrates, 0g Fiber, 5g Sugars, 4g Added Sugars, 9g Protein

Chef Tip
Wonton chips can be prepared and stored at room temperature in an airtight container up to 3 days in advance.