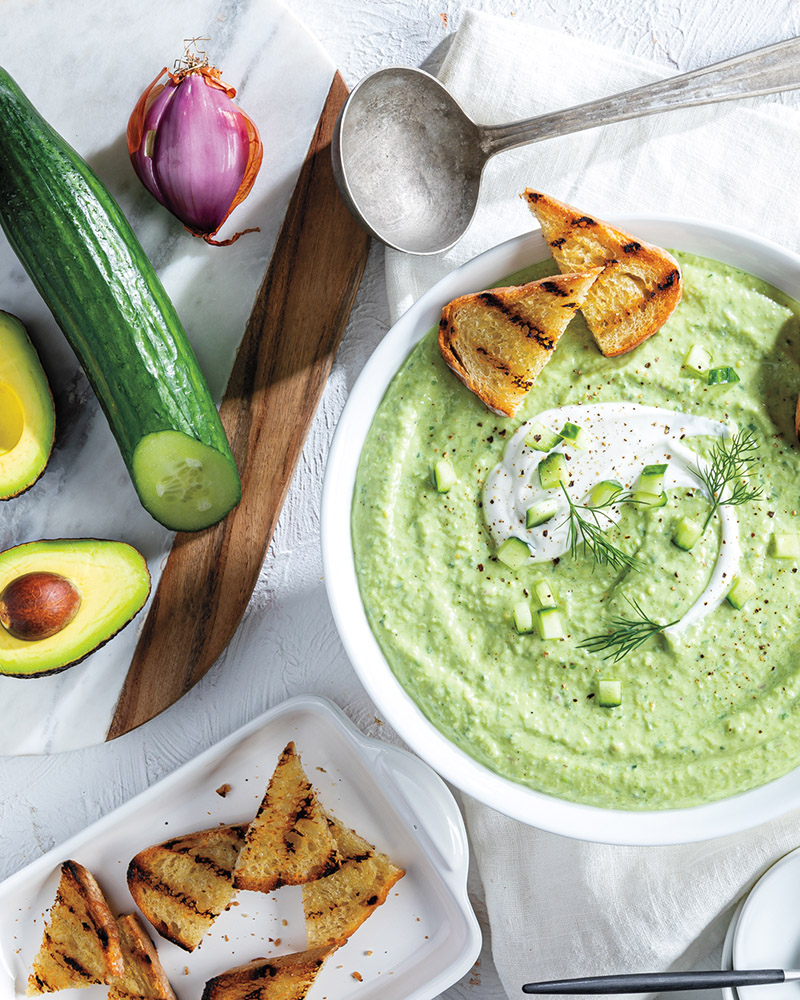 Avocado-Cucumber Gazpacho with Grilled Sourdough
Prep: 20 minutes plus chilling
Grill: 3 minutes • Serves: 6
2
medium avocados, peeled, pitted and chopped
1
large English cucumber, cut lengthwise in half, seeds removed and chopped (about 3-1/2 cups)
1
large shallot, coarsely chopped (about 1/4 cup)
1
cup plain low-fat Greek yogurt
2
tablespoons fresh lime juice
1
tablespoon white wine vinegar
1/4
teaspoon kosher salt
1/2
teaspoon fresh ground black pepper
3
thick slices sourdough bread
2
tablespoons olive oil
2
tablespoons chopped fresh dill
1. In blender, purée avocado, cucumber, shallot, 2/3 cup yogurt, lime juice, vinegar, salt, 1/4 teaspoon pepper and 1/2 cup water; cover and refrigerate at least 1 hour. Makes about 4-1/2 cups.

2.Prepare outdoor grill for direct grilling over medium heat. Brush both sides of bread with oil; sprinkle with remaining 1/4 teaspoon pepper. Place bread on hot grill rack; cover and cook 3 minutes or until grill marks appear, turning once. Transfer bread to cutting board; cut each slice into 4 wedges.

3.Serve gazpacho topped with remaining 1/3 cup yogurt sprinkled with dill and garnished with bread.

Approximate nutritional values per serving (3/4 cup gazpacho, 2 wedges bread):
304 Calories, 15g Fat (3g Saturated), 6mg Cholesterol,
393mg Sodium, 35g Carbohydrates, 7g Fiber, 11g Protein

Dietitian's tip:
> This recipe is an optimal way to use up leftover cucumbers and is a nice way to rehydrate yourself after a long day in the hot summer's sun.