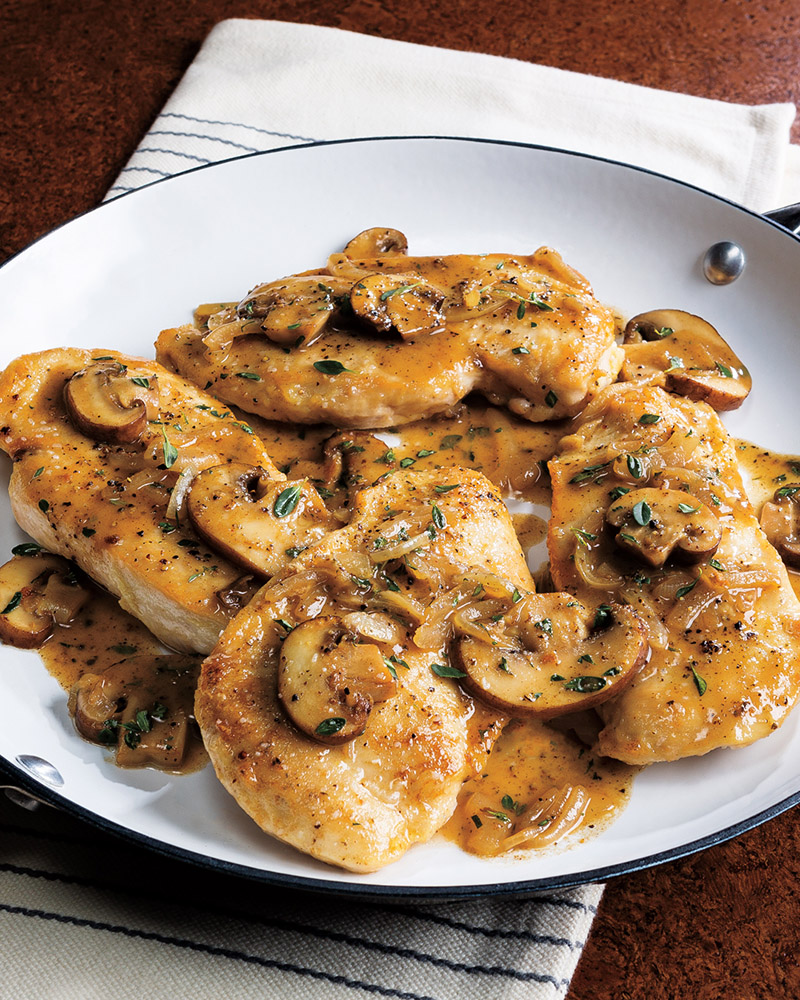 Chicken with Lemon-Herb Mushroom Sauce
Prep: 15 minutes
Cook: 20 minutes • Serves: 4
1/4
cup all-purpose flour
1-1/4
pounds thin sliced boneless skinless chicken breasts
3/4
teaspoon salt
1/2
teaspoon ground black pepper
2
tablespoons olive oil
1
package (8 ounces) sliced baby bella mushrooms
1
shallot, thinly sliced
1
cup low sodium chicken broth
2
teaspoons fresh lemon juice
2
teaspoons cold unsalted butter, cut into cubes
2
teaspoons chopped fresh thyme
1. Place flour in shallow dish. Pat chicken dry with paper towel; sprinkle with 1/2 teaspoon salt and 1/4 teaspoon pepper. Dredge chicken in flour, shaking off excess; place on large plate.

2.In large nonstick skillet, heat oil over medium-high heat; add chicken and cook 4 minutes or until browned, turning once. Transfer to clean plate.

3.In same skillet, cook mushrooms, shallot, 2 tablespoons broth, and remaining 1/4 teaspoon each salt and pepper 7 minutes or until mushrooms are browned, stirring occasionally. Stir in remaining broth and lemon juice; cook 5 minutes or until slightly reduced, scraping browned bits from bottom of skillet with wooden spoon. Stir in butter and thyme; add chicken and cook 3 minutes or until sauce is slightly thickened and internal temperature of chicken reaches 165°, spooning sauce over chicken to coat.


Approximate nutritional values per serving (4 ounces chicken, 1/4 cup sauce):
299 Calories, 13g Fat (3g Saturated), 89mg Cholesterol,
525mg Sodium, 11g Carbohydrates, 2g Fiber, 35g Protein

Cooking Clue
Serve with spiralized fresh zucchini sautéed with a little olive oil and Italian seasoning.
Dietitian's tip:
> Serve over a bed of zucchini noodles, quinoa or whole-grain pasta, if desired.