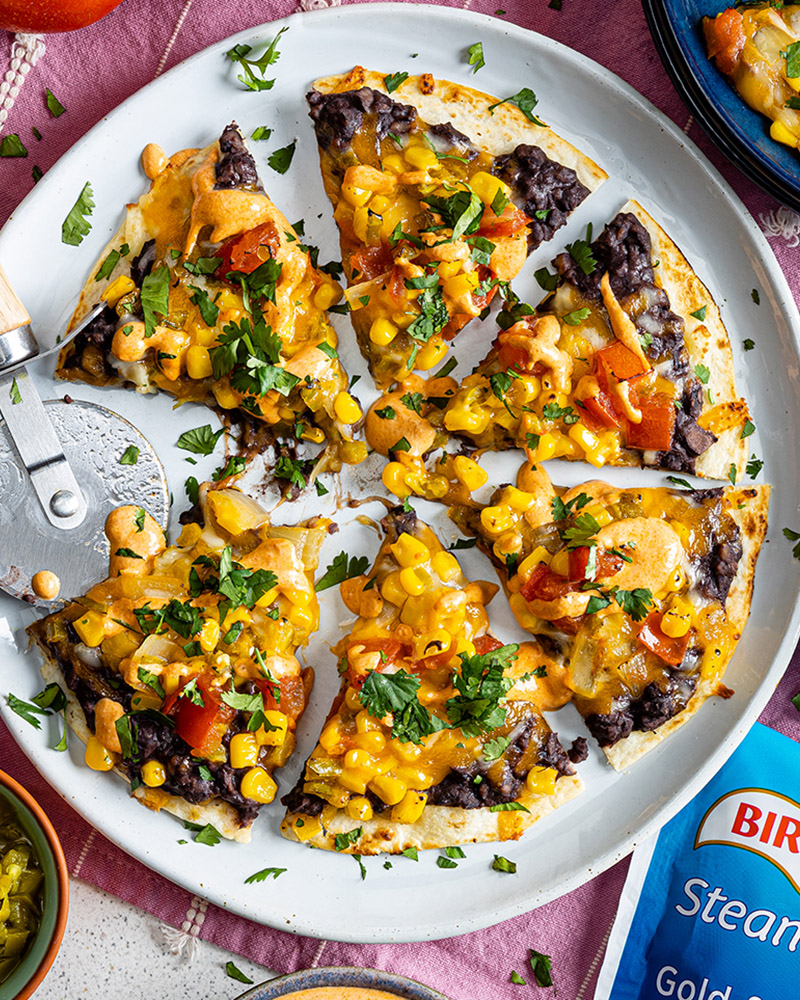 Click to See How-To Video!



Southwest Tortilla Pizzas
Prep: 20 minutes
Bake: 8 minutes • Serves: 4
2
tablespoons
Bertolli® olive oil
2
medium tomatoes, chopped
1/2
small white onion, finely chopped (about 1/2 cup)
1-1/2
packages (10.8 ounces each) frozen
Birds Eye® Steamfresh gold & white corn
1/4
teaspoon salt
3
tablespoons drained and chopped sliced jalapeños
1/2
cup
Martin's sour cream
1/4
cup enchilada sauce
2
cans (15 ounces each)
Our Family® black beans
, drained, 1/4 cup drained liquid reserved
4
(8-inch) flour tortillas
2
cups finely shredded Cheddar Jack cheese
1/2
cup chopped fresh cilantro
1. Adjust 2 oven racks to top and bottom position; preheat oven to 400°. In large nonstick skillet, heat oil over medium-high heat. Add tomatoes, onion, corn and salt; cook 5 minutes, stirring occasionally. Stir in jalapeños.

2. In small bowl, stir sour cream and enchilada sauce. In medium bowl, coarsely mash beans with reserved liquid.

3. Place tortillas in single layer on 2 rimmed baking pans. Spread each tortilla with about 1/2 cup beans; top with corn mixture and cheese.

4. Bake pizzas 8 minutes or until cheese melts and tortillas are crisp, rotating pans between upper and lower racks halfway through baking. Cut each pizza into 6 wedges; drizzle with sour cream mixture and sprinkle with cilantro. Makes 4 pizzas.


Approximate nutritional values per serving (1 pizza):
820 Calories, 34g Fat, 15g Saturated Fat, 64mg Cholesterol, 2103mg Sodium,
94g Carbohydrates, 18g Fiber, 15g Sugars, 0g Added Sugars, 32g Protein