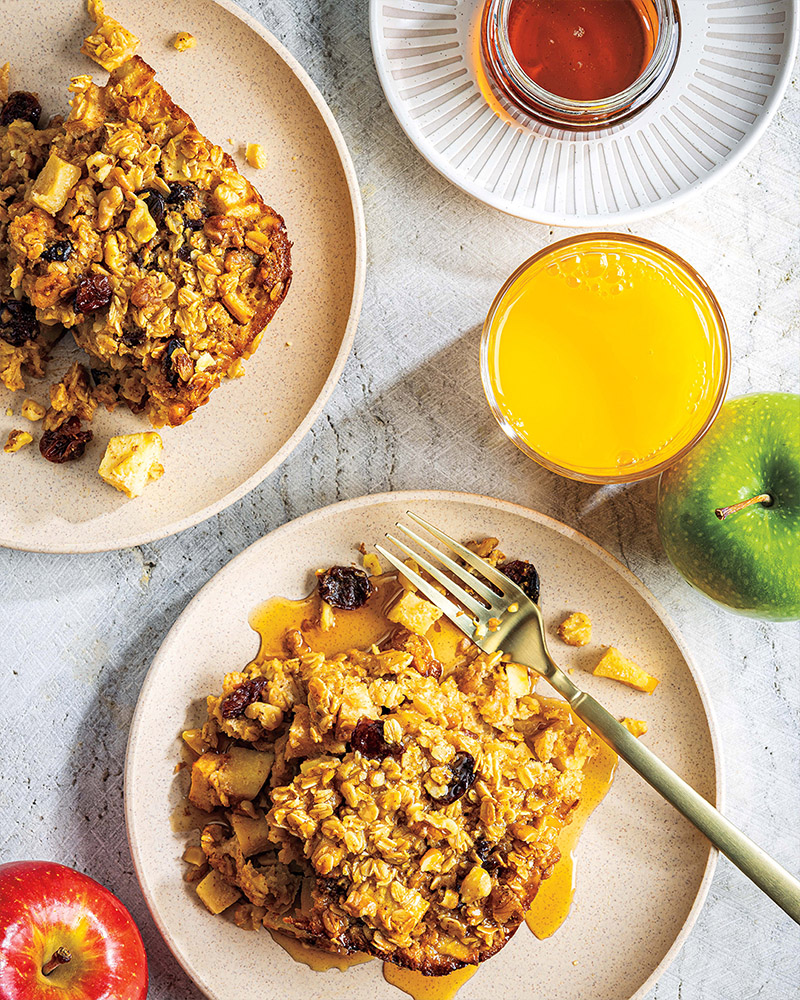 Click to See How-To Video!



Apple-Dried Cherry Baked Oatmeal
Prep: 15 minutes plus cooling
Bake: 40 minutes • Serves: 6
Nonstick cooking spray
2
large eggs
1
cup unsweetened almond milk
1/2
cup maple syrup plus additional for serving (optional)
1/4
cup plain nonfat Greek yogurt
1/4
cup unsalted butter, melted
2
teaspoons ground cinnamon
1
teaspoon vanilla extract
1/2
teaspoon baking powder
1
medium Fuji apple, peeled, halved, cored and chopped
1
medium Granny Smith apple, peeled, halved, cored and chopped
2
cups old-fashioned rolled oats
1/2
cup chopped walnuts
1/2
cup unsweetened dried cherries
1. Preheat oven to 350°; spray 8-inch square baking dish with cooking spray.

2. In large bowl, whisk eggs, milk, syrup, yogurt, butter, cinnamon, vanilla extract and baking powder; fold in apples, oats, walnuts and cherries. Spread oat mixture in prepared dish; bake 40 minutes or until golden brown and set, and internal temperature reaches 160°F. Cool oatmeal 5 minutes.

3. Cut oatmeal into 6 pieces; serve drizzled with syrup, if desired.


Approximate nutritional values per serving (1 piece):
420 Calories, 19g Fat, 6g Saturated Fat, 83mg Cholesterol, 103mg Sodium,
57g Carbohydrates, 5g Fiber, 32g Sugars, 16g Added Sugars, 9g Protein